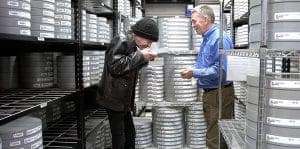 With a promising acting career ahead of him, Leon Vitali did what many would say was unthinkable — he walked away from performing and devoted himself to film production. But for him it was not a mere vocational decision, it was the singular path that he was destined to follow.
After landing the role of Lord Bullingdon in Barry Lyndon, Vitali told the director, Stanley Kubrick, he wanted to work with him. Kubrick told him to get some experience, which he did, and then returned. Thus began a 30-year career that saw Vitali become the venerable director's right-hand man and possibly most trusted associate.
With the director's infamous mercurial temperament and slavish dedication to minute detail, some might see this as a cautionary tale. Matthew Modine, who starred in Full Metal Jacket, bears witness to the intense pressure Vitali was constantly under as he assisted Kubrick with the film. "What he (Vitali) did was a selfless act — a self-crucifixion," Modine says.
In a current Cineaste magazine interview, Vitali brushed aside that characterization of his tenure with Kubrick. "…it was never like that for me," he said. I never felt anything but glad to be there and be associated with someone whom I hero-worshipped. I did it because I wanted to do it and that's the only way I can feel about it."
"…what many would say was unthinkable — he walked away from performing and devoted himself to film production."
That's not to say his association with the famed director was always pain-free. Far from it. As an actor in one scene of Barry Lyndon, he was on the receiving end of a good thrashing doled out by the star of the film, Ryan O'Neal. It was a beating made all the more punishing by Kubrick's direction. Insisting on roughly 30 retakes, Kubrick stood on the sidelines and browbeat O'Neal to hit Vitali harder and harder.
The director's demands on Vitali when he labored as his assistant could be equally punishing to the point of physical and mental exhaustion. The young protege routinely worked 14- to 18-hour days, seven days a week, a schedule he maintained over three decades. And when finally home after a day's work he would spend hours on the phone handling the details of whatever film project was in progress.
The documentary's title, Filmworker, comes from Vitali's self-applied job description. That's what he'd write on visa applications under "professional title" when he traveled the globe to do Kubrick's bidding. On the one hand, it's an apt description of his jack of all trades experience but is not without a ring of sadness to it. He characterized his value, and therefore his self-image, as a worker bee in a hive in which he clearly played enormously important functions while remaining relatively anonymous. Although the unspoken question, whether or not Vitali got a raw deal, lurks in the background of this film, the former actor appears to feel fulfilled in his role as the sorcerer's apprentice rather than Hamlet in the spotlight. For Vitali, it was a once in a lifetime opportunity. As O'Neal points out, "How many times do you get to meet a master."
"…a must-see for fans of the great director and anyone else enchanted with the inner workings of the film industry."
The only portion of the film in which Vitali seems genuinely wounded is in the discussion of the Stanley Kubrick museum exhibition, on display in Los Angeles in 2012-2013, and now on tour in Europe. Vitali, who performed duties ranging from casting and coaching actors and running endless errands, to overseeing the color correction of prints, certainly a key figure in the production of many Kubrick films, was not asked to participate. He shrugs it off but happily provided guided tours of the exhibit to dozens of Kubrick fans, an endeavor in which he clearly took great pleasure.
No one was more emotionally wounded than Vitali, one suspects, when Kubrick unexpectedly passed away in 1999. Suddenly, the responsibility of seeing through to completion Kubrick's last film, Eyes Wide Shut, fell on his shoulders, and the strain of it pushed him to the brink. At one point his weight dropped to 65 pounds. Like Kubrick, who was so driven to work that he undoubtedly pushed himself to an early grave, Vitali was unwilling to step away regardless of the personal cost. Finally, it may have been not only the magnetic attraction of filmmaking that united them but the need to be in service to an artform whose tyrannical demands require nothing less than full devotion.
Vitali recounts that when aspiring film technicians would approach Kubrick and explain that they'd give their right arm to work with the master, Kubrick's response would be, "Why only a right arm?"
Vitali's story, wrapped in fascinating details about what it was like backstage in Kubrick productions, is a must-see for fans of the great director and anyone else enchanted with the inner workings of the film industry. In fact, it's probably a pretty great take-in for anyone who has ever seen a movie, period.
Filmworker (2018) Directed by Tony Zierra. Starring Leon Vitali, Ryan O'Neal, Danny Lloyd, Matthew Modine, R. Lee Ermey, Stellan Skarsgård, Marie Richardson, Tim Colceri, Brian Capron, Julian Senior, Pernilla August, Lisa Leone, Brian Jamieson, Treva Etienne, Chris Jenkins, Nick Redman, Ned Price, Steve Southgate, Philip Rosenthal, Jacob Rosenberg, Mike Alfreds, Warren Lieberfarb, Colin Mossman, Max Vitali, Vera Vitali, Masha Vitali, Janet Wilson, Beverly Wood, Chris Vitali, Tim Vitali, Maria Hayward, Stanley Kubrick.
9 out of 10 Pod Bay Doors