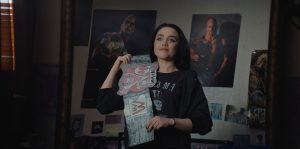 Written and Directed by Stephen Merchant and produced by Dwayne "The Rock" Johnson, Fighting with my Family is the biopic of Saraya-Jade Bevis, more widely known as for her WWE Superstar persona, Paige. Saraya (Florence Pugh) comes from a family of wrestlers. There's her loving, but unorthodox parents Julia (played by Lena Headley) and Ricky (Nick Frost), her talented brother Zak (Jack Lowden), and her imprisoned half-brother, Roy (James Burrows).
From childhood, Zak and Saraya have been obsessed with becoming wrestlers for the WWE. They train and put on shows out of their family-run wrestling promotion. After sending a demonstration tape of their talents, Zak and Saraya are invited to WWE's development program, NXT. The reasons for it are pretty poorly explained, but Zak is cut from NXT and Saraya goes to the US to pursue her dreams. When she gets there, she finds that training to be a WWE Superstar is far more difficult than she expected, but fitting in with the other recruited talent is even harder.
The cast is so splendidly brilliant. Nick Frost and Lena Headley play the parental role with a punk rock edge blended seamlessly with a warm and loving side. They're foul-mouthed, tactless, and shameless but they're incredibly lovable. Zak's story arc takes him into dark places, and an incapable actor could have botched that up, but when Jack Lowden is on screen he is believable as a jaded and frustrated new father trying to come to terms with his life not turning out the way he wanted it to.
"…Saraya [is] invited to WWE's development program…and goes to the US to pursue her dreams."