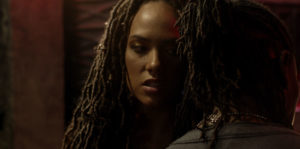 Writer-director Julian Hampton's action drama, Fighting Olypmus, is his sophomore feature-length effort. As the title implies, Hampton updates the characters from ancient Greek myths for a modern and more grounded approach. While this is a noble task, the film is an indie production. So, does Hampton's ambition exceed his grasp, or does he create a novel experience?
Biddle (Devinair Mathis) has recently retired from SWAT and is now pursuing his dreams. He's hired by a tenacious reporter, Ayasha (Anaya T. Kaur), and unfortunately, the assignment goes pear-shaped. Now, Biddle's brother, Rucker (Leslie A. Jones), who served on the same SWAT unit, investigates his brother's supposed murder. But, to find the truth, Rucker must wade through the petty rivalries of underworld gangsters and drug lords.
After paying the Ferryman, jealous Athena (Caroline Hallum) gives Rucker an impossible task: take out the "monster" Medusa (Haley Jackson). Recognizing a good opportunity when it appears, Rucker turns the tables and allies with Medusa. Now, the two must follow the clues and fight through compounds filled with masked soldiers, hoping to find Hades (Rich Sands). Once they have him, they'll get what they each want. The question is, will they survive long enough to encounter the feared criminal boss face to face?
Fighting Olympus shows its low budget in a few action sequences. Specifically, the camera occasionally follows the characters' movements (think Upgrade or Venom, if you hate good movies). Unfortunately, it's jerky and awkward as the camera wobbles to and fro in these moments. It's too bad, really, as the choreography is excellent. The various battles, be they hand-to-hand, gun battles, or some combination thereof, are exciting. A lot of stunt work went into them, and all that hard work pays off with some of the best fighting scenes in an indie film in a very long time.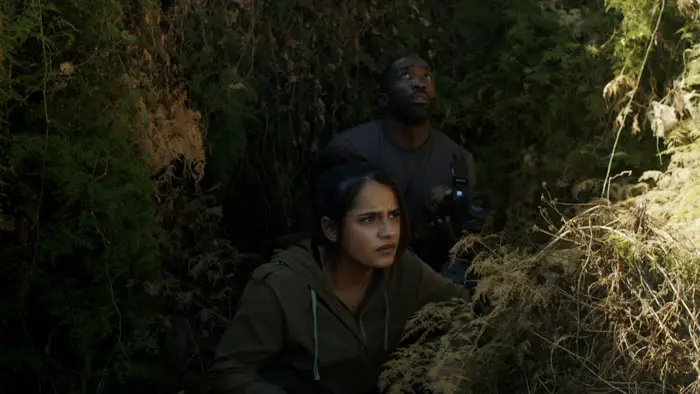 "…fight through compounds filled with masked soldiers, hoping to find Hades."
The cast is just as good. Jones is a terrific hero, easy to root for, and charismatic enough to hold the viewer's attention. Sands is a formidable baddie, ably being goofy (the part is quite funny) and threatening all at once. Hallum is fun as the not-so-well-meaning miniboss. Kaur is spunky and brave, though she rushes through her lines in her first scene (which establishes her tragic backstory). Then there's Jackson. She's perfect in every way as the disfigured lady seeking revenge. She steals the entire film, and hopefully, this will launch her career to the next level.
Helping Jackson right along is the script for Fighting Olympus. Hampton has written a fun story with engaging characters. But, much like with the acting, it is Medusa who steals the show. Her arc, motivations, and conclusion are brilliant and heartbreaking. The way the filmmaker uses the accepted character traits of the gods' namesakes throughout the movie is also quite clever. The way he upends expectations is even better.
Finally, the costumes are a mixed bag. The masks used for the foot soldiers are interesting but don't make too much sense world-building-wise. There's a throwaway line or two about it, but it still doesn't work as intended. Athena's costume is lovely and works for this interpretation of the character splendidly. Most other outfits do the job well enough, even if they're unremarkable.
Fighting Olympus is very ambitious, which means its budgetary restrictions occasionally show. But the cast is great, especially Jackson, while the plot is very original. Although more world-building would have strengthened certain aspects, Hampton and his cast and crew should be very proud of what they accomplished.
For more information, visit the official Fighting Olympus site.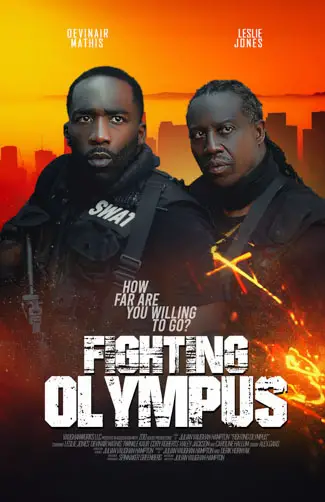 "…the cast is great, especially Jackson, while the plot is very original."