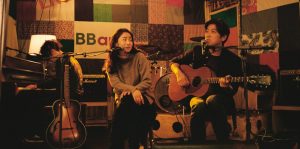 Fiction And Other Realities is the story of Bobby Choy (playing himself), a 20-something Korean-American residing in New York City, who feels like a stranger in the country he was born in. After his father's death, he starts writing sad songs, though he does not perform very often. Mostly, he just practices in his bathtub, singing softly because of the thin walls of the apartment he shares with his mom. Bobby's friend Billy (Todd Goble), the lead singer of the band Paper Kings, offers him a job as a roadie for the band's upcoming tour, which includes a stop in Seoul, the Republic Of Korea (or, as it is better known, South Korea). Bobby is hesitant at first, as he would be away from his mom and the only society he truly knows. However, after mulling over the pros and cons at his telemarketing job, he decides to take the opportunity.
Bobby enjoys his time on the road and is stoked once they land in Seoul. The excitement fades when they arrive at the venue and Bobby is stopped by security, being mistaken for just another fan. Billy intervenes, and the band and their crew set up then go out for food and drinks. Billy winds up getting so sick he spends most of the next day throwing up. With some time for himself, Bobby goes to the Hongdae area of the city. He goes there because of a photo. In 1974, his dad, standing proud, had a picture taken there. While walking around, Bobby comes across Ina (Hwa-Young Im), a grad student busking for fun. He accidentally leaves her 500,000 Won, not 5,000. She insists he takes it back, but he convinces her to be his guide around the city, and keep the money as payment.
They walk all over, talking about her plans for university, music, when they first wrote songs, and even have dinner together. The next day, Billy is feeling better and asks where Bobby was all day. Then Billy starts talking about packing up and getting ready for the next stop along the tour. Bobby decides to stay, and Billy wishes him luck. Then Bobby goes to find Ina again. She introduces him to Dolly (Hyun-Sung Hwang), who gets Bobby a very cheap apartment in a short amount of time. The three then start hanging out, playing music at small venues as Big Phony. These performances become a weekly gig, and soon they are being asked to be the opening act for some bigger bands about to go on tour. But Ina has a secret she's been unable to tell Bobby that could jeopardize their future together, as well as the band's. Can the trio of musicians navigate the obstacles and achieve their dreams? Will Ina's duty to her family prove their undoing? Does Bobby's sense of belonging there dissipate as he learns more about the culture and customs in the Republic of Korea?
"…a 20-something Korean-American residing in New York City, feels like a stranger in the country he was born…"
Fiction And Other Realities, aside from just being a brilliantly clever title, is based on Bobby Choy's real life. He was raised in NYC and moved to Seoul, where he still resides. He is still creating music, having recently hit 10K subscribers on YouTube and playing at the Korea Spotlight concert in Austin, Texas. The movie leaves out some autobiographical details, such as his family moving to Los Angeles when he was 14, but he stayed in NYC and Choy's brief sojourn at a Christian college before deciding to focus on his music. Of course, distilling an entire life to just 90 minutes is impossible, so things will be streamlined or omitted in favor of narrative flow. Since Choy wrote the movie, as well as co-directs with Steve Lee, these changes reflect the things he deems vital to the point of the story.
When deciding to stay, Bobby tells Billy that he "feels safe" in the city and he wants to discover why. Having had the immense honor of living in South Korea, I can confidently state that of the dozens upon dozens of countries I have been to and of the four continents I grew up on, there is no place quite like Seoul. It is the greatest city on the planet, offering something for everyone, no matter what you may be into. Take Lotte World for example. It's a multi-story shopping mall whose bottom floor is a freaking half indoor (Adventure)/ half outdoor (Magic Island) amusement park, has a lake that the entire complex circles, connects to a folk museum, a live theater that is home to several magicians, and movie theaters. If you can't find something to entertain or interest you there, then you aren't trying. The movie perfectly sells that intangible, almost magical atmosphere Seoul casts.
Choy is playing a version of himself, but such a thing isn't always easy; ask Chuck Barris. He is empathetic and soulful while never coming across as morose or timid. He shares excellent chemistry with everyone he interacts with and comes off as a fun, likable guy. Hwa-Young Im is equally amazing as Ina. When she finally breaks down and confesses to Bobby what exactly is going on, despite her lies of omission, the audience feels terrible for both parties involved. The character of Dolly isn't exactly subtle, but Hyun-Sung Hwang is nuanced and adds a zest for life that makes him the best friend one could ask for. The entire cast really is remarkable, with each actor making the most of their roles, no matter how little screentime they get.
"…perfectly sells that intangible, almost magical atmosphere Seoul casts…"
Music is central to the film's plot and atmosphere. Most of the songs are Big Phony tracks – they are catchy and fuel the energy and passion of not just the characters, but also the movie. Bobby and Ina are at dinner, after their first meeting, and she convinces him to sing for her. Bobby warns her that all his songs are sad, but relents and plays something. As he strums the guitar and sings, doodles of bubbles are coming out of the couple's beverages, and when "rocket" is sung, a hand-drawn ship flies across the screen. This is a remarkable way to visually represent the songs that do not undercut the tenderness on display.
The highest praise I can give Fiction And Other Realities is that after watching the movie I bought a Big Phony album. Yes, the music is that good. More importantly, as a movie, everything comes together eloquently. A sweet story with engaging performances, excellent music, and an ethereal ambiance thanks to its cityscape.
Fiction And Other Realities (2018) Directed by Bobby Choy and Steve Lee. Written by Bobby Choy. Starring Bobby Choy, Todd Goble, Hwa-Young Im, and Hyun-Sung Hwang. Fiction and Other Realities made its West Coast Premiere at the 2018 Los Angeles Asian Pacific Film Festival.
Grade: A