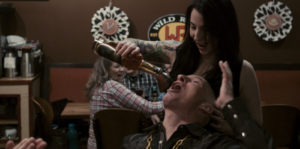 February's Dog is the feature film debut of Paul J. Chinook. He co-wrote, co-directed, produced, and stars in the drama. He also served as the location manager and casting director. Suffice to say, the project is very near and dear to Chinook's heart. His partners in crime are co-director Candace Gonzalez and actor/collaborating writer Doug Wilson.
Best friends Dale (Chinook) and Nigel (Kevin Davey) live around the Canadian Rockies and work together at Apex Oil. One day, their boss, Artie (Doug Wilson), calls them in from the field and is forced to let them go due to the company mandating layoffs. Artie assures Dale and Nigel that this is temporary. But, after three months, then six, there's still no movement on that front.
To try and make ends meet, Nigel takes a part-time job with contractor Jedd (William Webster). Jedd's life is falling apart around him, as his wife has taken the kids and wants a divorce. Though that is nothing compared to the alcoholic spiral of depression and shame, Dale slips ever further into each day. His wife, Emily (Quinn Teechma), is at her wit's end, unsure how to help her husband. Though the promise of starting a family seems to keep Dale going, but is it enough?
Chinook and Gonzalez are far more interested in telling their dramatic saga than visual pizazz. As such, February's Dog fares more on the early Kevin Smith side of things in terms of camera setups and staging. Don't mistake that for criticism, as Smith has carved out a highly successful career. Here, the filmmakers realize that the people are the focus and remain steadfast in delivering a heartfelt character study.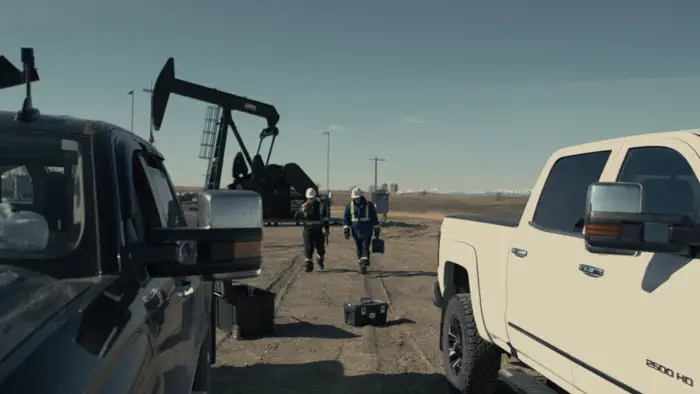 "…the alcoholic spiral of depression and shame, Dale slips ever further into…"
To that end, the screenplay takes its time to develop the leads fully. However, there is one awkward moment. In a tense call, Jedd's wife tells him that she sold his company. It is his, and it's never set up that she has a stake in it. Plus, if he can't make a living, how does she expect him to pay child support or alimony? This wouldn't be that big a deal if it didn't lead directly to some significant moments for Jedd.
Overall, that is a minor nitpick as this is Dale and Nigel's story. To that end, the screenwriters don't make a false step regarding either lead. Dale's slow descent into irrelevancy (at least, that's how he sees it) is heartbreaking, while Nigel's almost neverending optimism comes from a real place. But, the themes of mental health and learning how to express oneself elevate the picture. Wilson and Chinook don't take the easy road here, allowing the plot to play out naturally. They also keep the emotions authentic and intense.
In that same vein, the cast of February's Dog all earn their keep, so to speak. Chinook seems distant at first, but that ultimately becomes part of his character. It is a tricky balancing act for the first-time actor, as going too far out from the start makes it impossible for audiences to care and empathize with it. But, not going full tilt boogie when it is called for means that Dale's arc would be incomplete, and the finale would not work. He pulls it off and then some.
Davey is charming, effortlessly bringing to life the hopefulness that resides in even the darkest of situations. Teechma is stunning as the put-upon wife. She sells the frustration and Emily's deep love for her husband remarkably. It certainly helps that the core trio share brilliant chemistry, coming across as if they've known each other forever.
With February's Dog, Chinook has a very specific message he wants to convey. Well, the first-time filmmaker, ably bolstered by talented collaborators, successfully gets his themes across in a moving, engaging manner. One brief scene aside, the writing is excellent, and the cast breathes life into three-dimensional characters.
For more information about February's Dog, check out its official site.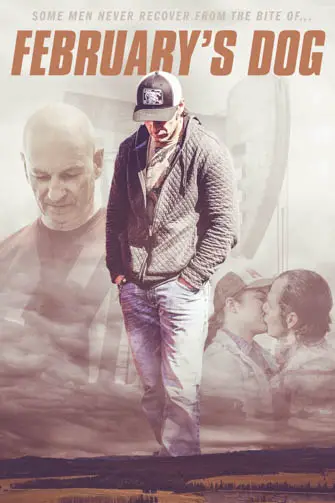 "…pulls it off and then some."