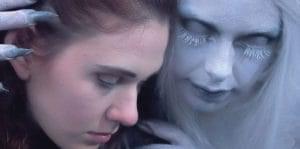 A troubled teenager must save her little sister from a bloodthirsty fairy lurking in the forest before it devours them both.
Feast on the Young gets points for the title alone. However, this mysterious little horror short is enjoyable in its own right. The story opens on Mina (Paige Joustra). A teenager who looks on as her mother (Maggie McCormack) and younger sister Alice (Jena Schaak) argue over a book. Yes, reading is what kids? FUNDAMENTAL. This book is a little creepy though and their mother would rather the youngest not have it. There is more going on of course. Recently separated, the book came from the estranged spouse and little Alice has an attachment to it. What the heck is so bad about a book?
Alice runs off into the nearby woods and their mom asks Mina to go retrieve the petulant bookworm. After finding the little Alice, we learn that these two young ladies use to hunt faeries with their father. Everything is playful and fun as the two begin to search once more. Yet, Mina gets a look at the more graphic depictions of faeries eating kids in the book Alice carries around and this is a bit of a turn-off. The two become separated in these mysterious, fog-laden woods and before you know it, Mina herself comes face to face with a ghostly white, winged creature.
"…these two young ladies use to hunt faeries with their father."
What really makes Feast on the Young work is the impeccable atmosphere. The towering trees that the girls wander through are beautiful enough but writer-director Katia Mancuso bathes each scene in mystery and obscurity. Julia Goldsworthy's production design is a visual tone poem of greys and pastels. Director of Photography, Charles Richardson uses light and smoke to create some ethereal moments once we come face to face with the bloodthirsty Faerie (Marisa Matear).
With roughly 12 minutes we spend the lion's share of the runtime in the faerie world of greys, lavenders, blues and slow-motion shots. It's funny, this is where the film is most successful. The family moments, in the beginning, come off a little tin-eared and insincere. Thankfully they really don't matter. What matters is getting into the woods and capturing the monsters.
Left with a strangely morbid, yet magical feeling, Feast on the Young was an enjoyable horror short.
Feast on the Young (2018) Written and directed by Katia Mancuso. Starring Paige Joustra, Jena Schaak, Marisa Matear, Maggie McCormack.
6 out of 10