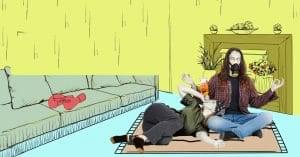 A popular archetype that seems to continually reemerge in American cinema is that of the square jawed loner who usually talks little and – with heroic effort and gritted teeth – triumphs over personal demons, great and small (think High Noon, First Blood, or Mad Max). Life, however, is seldom is so forgiving. For those who choose to go it alone and tilt alone at their own personal windmills — be they mental, spiritual, or chemical in nature — they are often crushed under the weight of the struggle. Writer/director Alex D'Lerma attempts to turn this notion on its head by paring two unlikely characters — a female marine veteran and an agoraphobic male shut-in — who, first as roommates and then lovers, attempt to help the other vanquish that which plagues each of them. It's a novel idea but the broadly drawn characters and utter lack of chemistry between the two leads ends up mooring this indie on the rocks of good intentions.
"As far as odd couples go, Felix and Oscar have nothing on these two…"
Twentysomething Chet (Dustin Coffey) lives at home with his mom in some nondescript SoCal suburb. My first impression of this wayward soul was that, with his long greasy locks, rail thin physique and fu-manchu mustache, he posed a startling resemblance to Frank Zappa during his early We're Only In It For The Money period. But I digress. Informed by his strangely youthful mother that she's moving away with her boyfriend, Chet — living off a meager disability check — must suddenly find a way to bring in enough income to keep his roof/sanctum sanctorum over his head. This turn of events is made all the more difficult by his crippling agoraphobia which keeps him a virtual prisoner in his own home. So severe is his illness that a trip to the grocery store is nigh impossible. His only salvation, it would seem, is to find a suitable roommate who can help with the rent and agree to do those chores/household duties that he cannot.
Into this void steps Maggie (Linda Burzynski), a hard-drinking, s**t talking ex-marine who pulls shifts as a bar back at a crummy local dive and lives in her minivan courtesy of her boss, Lori Petty (yes, Tank Girl). To add to her misery, Maggie's husband — whom she periodically visits at prison — is doing a life stretch for murder. After an especially drunken and violent night, during which she both loses her job and almost kills a lascivious bar patron, she crashes into Chet's orbit. After as series of interviews with a host of sketchy characters, Chet ultimately settles upon the persistent Maggie as his new roomie.
"…there's no way in a million/billion years that these characters would ever get it on — never mind fall in love."
As far as odd couples go, Felix and Oscar have nothing on these two. Beyond experiencing shared mental health crises — hers, post-combat PTSD, and his, agoraphobia/possible autism/and terrible fashion sense — they have absolutely zero in common. Yet, after a few halting conversations and a shared drunken night in which she holds his hair as he tosses his cookies, a bond between the two begins to grow. While their interactions are utterly unconvincing, the panic attack that Chet experiences after Maggie takes him on an unplanned outing to the market did have a refreshing degree of verisimilitude. However when Maggie starts putting the moves on Chet — after learning some disquieting information about her husband — and Chet subsequently declares his love for her, I audibly shouted "c'mon!" in exasperation.
I'm all for the willing suspension of disbelief in cinema but there's no way in million/billion years that these characters, hamfistedly portrayed as they are, would ever get it on — never mind fall in love. Even if they did, the syrupy score and stutter-step cinematography would have put a nail in this Men Are From Mars, Women Are From Venus romance quicker than a marine can bark "oorah"…which is actually shouted several times throughout the flick. Nevertheless, it is good know that Lori Petty is still out there making her way in the trenches of indie cinema, though one hopes her next project gives her a lot more to work with. She deserves better and so do we.
Fear, Love, and Agoraphobia (2017) Written and Directed by Alex D'Lerma. Starring Dustin Coffey, Linda Burzynski, and Lori Petty.
2 out of 5 stars