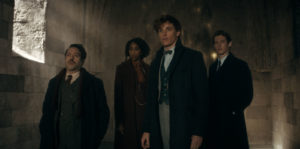 I'm new to the Fantastic Beasts party. In fact, I just recently binged Fantastic Beasts and Where to Find Them and The Crimes of Grindelwald before seeing Fantastic Beasts: The Secrets of Dumbledore, which takes place not long after the second one. Seeing all three films so close together helped get me into this new world of J.K. Rowling. But is this third entry any good?
Quick recap: angry, magic-using orphan Credence (Ezra Miller) is revealed to be Aurelius Dumbledore, the long-lost brother of Albus. Crazed Grindelwald (Mads Mikkelsen) has amassed a large following intent on unveiling the existence and power of wizards and witches to the world. Now it's up to Albus Dumbledore (Jude Law) to foil Grindelwald's plans. Because Dumbledore and Grindelwald swore their love for one another long ago through a blood oath, this magical charm prevents either of them from attacking one another directly.
Progressing the story forward, the beloved Newt Scamander (Eddie Redmayne) is helping with the birth of the rare beast, the Qilin (pronounced Chillin). As the fawn is being delivered, Newt is attacked by Grindelwald's henchmen, who steal the baby Qilin and kill its mother. Then, in a heinous act, Grindelwald kills the Qilin, giving him the ability to see the future.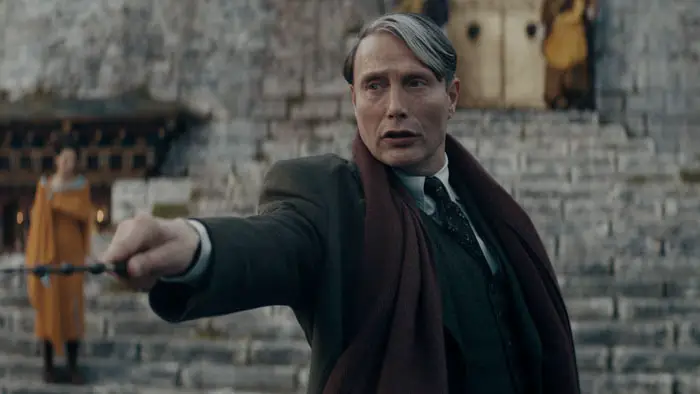 "…Grindelwald has amassed a large following intent on unveiling the existence and power of wizards and witches to the world."
The prologue of The Secrets of Dumbledore is all a setup to reveal that the Ministry of Magic has refused to prosecute Grindelwald, making him a free man. Furthermore, there is an election for the new president of Wizards (I'm sure I have this title wrong), and Grindelwald has added himself to the list of candidates, and if he wins, he'll usher in a new era of fascist magic. Determined to expose Grindelwald, Dumbledore amasses his "army," including Newt, Newt's brother Theseus (Callum Turner), Yusef Kama (William Nadylam), Bunty Broadacre (Victoria Yeates), new witch Lally (Jessica Williams), and Newt's friend/muggle Jacob (Dan Fogler). Because the mad wizard can see the future, Dumbledore sends each member down their dangerous pathway, unallowed to reveal their orders to anyone. Also, the Qilin that Grindelwald stole had a twin who Newt is charged with protecting it as the surviving Qilin will play a significant role in the election.
Let's get right to it. If you are not a fan of the Fantastic Beasts series, you will not like The Secrets of Dumbledore. However, I will say that Dumbledore takes center stage in this one. His one-time romance with Grindelwald is confirmed and expanded upon, but most importantly, Dumbledore's importance to the Harry Potter lore is firmly established.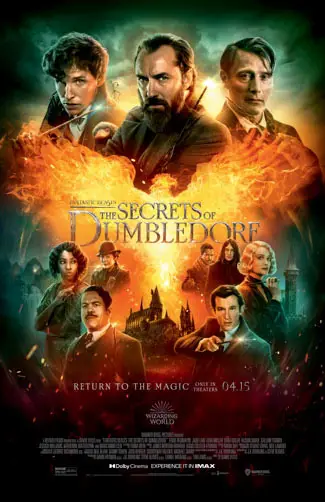 "…hands down the best of the series."