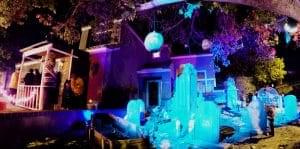 Each Halloween in Southern California, groups of "home haunters," shed blood, sweat, and tears as they create unique, world-class haunted attractions in their own front yards. Step inside some of these stunning experiences, and meet the wildly-creative artisans who have devoted countless hours and personal resources to terrify, entertain, and bring their communities together – one scare at a time.
Epic Home Haunts is a love letter to home haunters. A community so very devoted to the art of artifice, the fun of fear, and the mayhem of Halloween that they build haunted attractions within their neighborhoods, their yards, even their homes and invite the world in for a safe way to enjoy the spooky holiday. Epic in name only, Director Josh Quillin pulls a tight focus, weaving a documentary about ferociously enthusiastic lovers of All Hallows Eve on an intimate scale. The result is a pic that, while light on overall narrative, provides the most accurate look at the Home Haunt and Halloween Communities that resides in Southern California.
"…a documentary about ferociously enthusiastic lovers of All Hallows Eve on an intimate scale."
Quillin spent several years visiting famous haunts in the SoCal region including Rotten Apple 907 (Burbank), Restless Souls Manner (Palmdale), Boot HIll (Irvine) and Beware the Dark Realm (Santa Clarita) and captures what they do. We start with a glimpse of the homegrown haunting these four venues offer. Professional grade staging, makeup, lighting, and actors entertain scores of excited neighborhood fans. Some of whom wait hours for a single walkthrough. We get a real sense of the fun these haunted houses offer to their surrounding communities, and the resulting footage is disarming, and infectiously fun.
Still, the question remains; Why? What drives these devoted fans to create entertainment for strangers? It isn't money. Most of these homes either do not collect an admission fee, or they suggest a donation that is then passed on to charity. Journalists, actors, creators, and longtime members of the SoCal Haunt community weigh in on the matter. Figures like Midsummer Scream co-founder Rick West; Haunt actor, writer, director Ted Dougherty; and scare impresario Jon Cooke recall their personal histories of living in southern California and falling in love with Halloween. It is clear that the desire to terrify comes from a place with far more depth than a mere shriek.
"What drives these devoted fans to create entertainment for strangers? It isn't money…"
Halloween and horror are presented as a means of community and connection. Quillin decides to allow the history of haunting in this region to do most of the foundation work while pairing it with footage of current home haunts in practice. The aim, I assume, is to connect past and present, to create a narrative of a fan community with depth and a resonance that transcends beyond the mere desire to frighten. This approach is only mildly effective compared to the real-life drama that unfolds in the third act. We see that one of the home haunts suffers a devastating blow, then we witness the community rally in support. It is here that Epic Home Haunts finds not only a narrative throughline for the un-initiated to cling to, but it also speaks on a universal desire to connect.
Epic Home Haunts aims to tell a grounded story of connection and communal fandom. It succeeds for the most part in documenting an oft-misunderstood sect of fandom and the ways this group connects with one another and those outside its boundaries. Inviting, spooky,  and tinged with a kindhearted tone, Epic Home Haunts is a straight up injection of trick or treat fun.
Epic Home Haunts (2018) Directed by Josh Quillin.
7 out of 10 stars