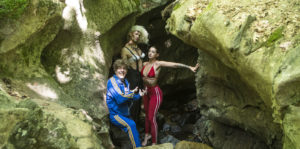 The moment you decide to take Lee Demarbre's over-the-top comedy, Enter the Drag Dragon, seriously, it's over. Sometimes, a film is just meant for fun… flamboyant fun, if you will. The story is about the infamous drag queen/private investigator Crunch (played interchangeably by Sam Kellerman, Jade London, and Matt Miwa), who runs the Crazy Dragon Detective Agency. She is best known for finding missing bikes and lost dogs.
Crunch runs the agency with best friend Jaws (Beatrice Beres) out of an indie arthouse movie theater owned by Fast Buck (Phil Caracas). Fast Buck is their mentor and shows them kung-fu movies late at night as a form of fight training. Things go crazy when young Sebastian (Mark Macdonald) loses his dog and hires Crunch for her tracking skills. Crunch's chase leads to the unknowing discovery of a painting, which is secretly a map to the treasure of an ancient Aztec mummy.
This painting was supposed to be delivered to the evil Gorch (Natalia Moreno) by Sebastian's mother, Samantha (Judy Deboer), a dirty cop. Can Crunch and Jaws defeat Gorch and her goon squad, F.I.S.T.? Can they do this while fending off the violent Bible-thumpers N.A.G. (Never Again Gay) and serial sexual-harassing foreman, The Foreman (Troma-founder Lloyd Kaufman)? Tune in and find out.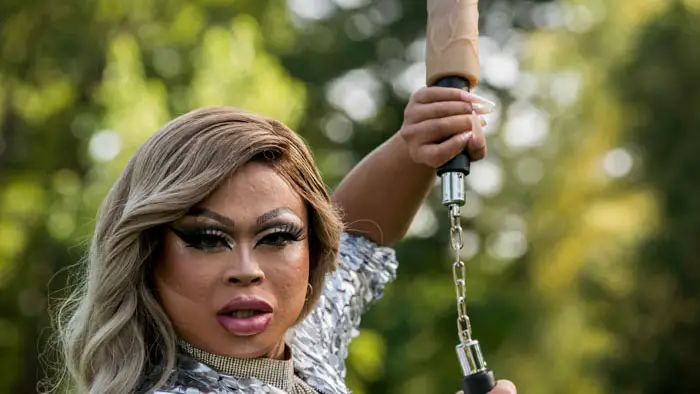 "…Sebastian loses his dog and hires Crunch…discovery of a painting, which is secretly a map…"
Enter the Drag Dragon is a very silly film, plain and simple. You'll go mad trying to string plot points together or make sense of why Crunch is played by three actors. Story logic be damned. What Demarbre's film lacks in a cohesive story, he more than makes up in fun. First, there are the truly silly elements. For example, when fighting the baddies, the weapon of choice is c**k-chucks (two dildos connected by a small chain).
Second, we've got zombies in green paint, nearly topless and topless hench-people, and heroes coming to the rescue in all the flamboyance you can possibly stand. Demarbre then evolves the campy horror and gore with creative ways to kill the villains with ample use of C.G. dismemberment, cheesy decapitations, and a pair of poisonous breasts. There's a bit of heart as well.
Played by Kellerman, London, and Miwa, Crunch is a well-meaning detective/drag queen who wants to find acceptance. She also wished to be taken seriously for her dog-finding and zombie-killing skills with her loyal best friend Jaws by her side. Then comes a sweet love story between Crunch (played by Jade London) and Sebastian, only to be joined by Sebastian's evil mother, Samantha.
It's fitting that Troma legend Lloyd Kaufman is in this, as Enter the Drag Dragon is a bit of an homage to Lloyd and the Troma-verse. It never claims to take itself seriously, and the fun comes in Dembarbre's vision. The filmmaker shows a willingness to throw literally everything he has into this drag adventure while bringing in a more-than-willing cast of friends and family who just want to make a movie and jump out of an airplane.
For screening information, visit the Enter the Drag Dragon Facebook page.
207 N Maryland Ave, Glendale, CA 91206, USA
Engagement is from June 16th-22nd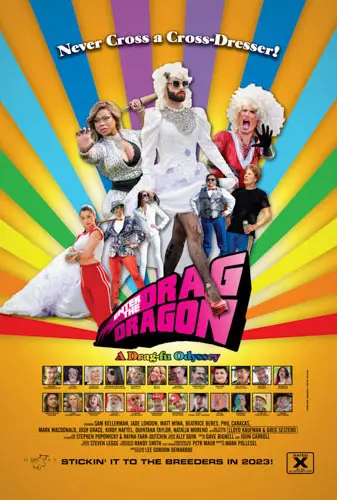 "…what Demarbre's film lacks in a cohesive story, he more than makes up in fun."