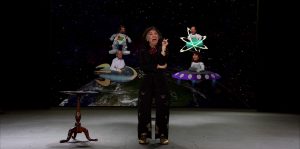 The opening credits of Emily @ The Edge Of Chaos gives one great pause. Emily Levine, an actress, writer, and producer, is flying through outer space on a rocketship passing floating broccoli, school supplies, and other people (later to be revealed as scientists) before entering a wormhole and exiting on to the stage where she gives her talk that is most of this documentary. But that sequence gives off a PBS educational series vibe in all the worst ways. It's instantly off-putting and a rather odd choice to begin what is essentially a one-woman show.
Ostensibly the scene is that way, so audiences aren't thrown for a loop when Levine begins interacting with animated figures, including Isaac Newton (John Lithgow), Ayn Rand (Lily Tomlin), and Aldo Leopold (Matt Groening). But due to how animation director Stephen Chiodo (of Killer Klowns From Outer Space face) uses the medium to flesh out or personify the wide range of topics Levine is discussing, it feels unnecessary.
Emily Levine is a very funny and intelligent person who discusses how a brain tumor ruined her career in the 1990s and how it went undiagnosed for close to a decade. This would eventually lead Levine to begin reading books on the laws of the universe, and the things she discovered did not jive with what she saw in reality. This led her down a different rabbit hole of information, and now, she's giving a cartoonified TED Talk to inform anyone willing to engage and listen.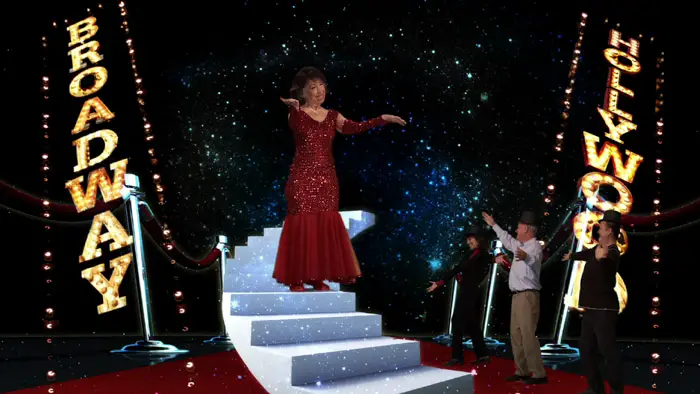 "…Levine…reading books on the laws of the universe, and the things she discovered did not jive with what she saw…"
Aside from the beginning credits, Emily @ The Edge Of Chaos does have one more issue. Various scientists are on hand to expand upon or debate the opposing ideologically views of the universe that has been raging in academic circles since philosophy was invented. However, aside from their names popping up in the credits, these people are never introduced. This means that their expertise is lost on the viewer, and given how they usually only have a line or two at any given moment, their inclusion feels unnecessary.
See, that whole debate thing is beautifully brought to life via the voice actors and animation of historical figures disagreeing with one another. It keeps the humor on the same wavelength as Levine herself, whereas the segments with the scientists just bog things down. But, Levine is very fun, entertaining, and charismatic, so the audience is still interested in hearing everything she has to say. Plus, director Wendy Apple creatively mixes the live-action elements with the animation, including having the 2D characters in the audience. It is all very enjoyable, and Levine makes the big ideas feel grounded and relatable, as she relates everything back to something in her life, so nothing gets too overwhelming.
Emily @ The Edge Of Chaos is an excellent primer on how to understand and deconstruct the laws of the universe, whatever those truly are. Emily Levine is a charming host, and the use of animation brings a certain joy to the proceedings. But who are those scientists exactly?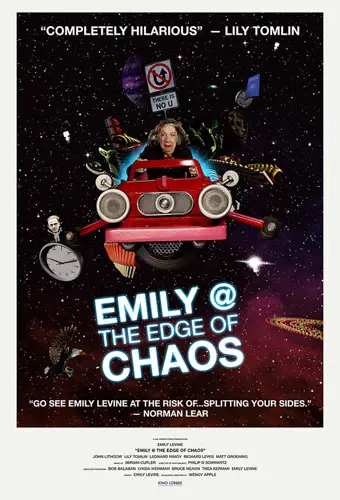 "…very fun, entertaining..."