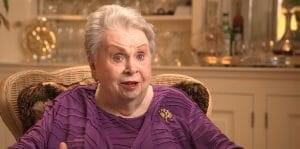 The woman at the center of director Leslie Iwerks's documentary Ella Brennan: Commanding the Table is, at one point, referred to by an interview subject as "Hurricane Ella." Based on the evidence the film presents, it's hard to argue with that assessment – she, absolutely, is a force of nature.
Only those who follow international culinary culture are likely to know restauranteur Ella Brennan by name, but a somewhat larger slice of the populace is familiar with her signature establishment, New Orleans's Commander's Palace, and just about every American has heard of her most famous protégés, the pioneering celebrity chefs Paul Prudhomme and Emeril Lagasse. The documentary is tenacious (much like Brennan herself) in its attempt to invert that pyramid. Brennan and her decades-long career are the central focus, while the places and people she's made famous are a secondary priority. It's an approach that works because, even amongst all the local color and the outsized personalities of participants like Lagasse, it's obvious that Brennan is the most interesting subject on display.
Commanding the Table encompasses the entire history of the New Orleans restaurant scene…"
Commanding the Table encompasses the entire history of the New Orleans restaurant scene in telling Brennan's story, but the film nevertheless manages to move at a refreshingly rapid clip throughout. A wealth of archival footage and photographs, accompanied by the expected (but entirely appropriate) jazz soundtrack, brings to life the mid-20th century Big Easy, where young Ella began her career working with her siblings to manage a restaurant that challenged the dominance of the city's legendary fine-dining spots. Her successes there (not the least of which was the invention of the still-popular dessert Bananas Foster), coupled with a family tragedy, led her to take over the family business by renovating a dilapidated restaurant called Commander's Palace. Under her leadership in the half-century or so since, it's become one of the most highly regarded restaurants in the world.
As the film continues to chart the meteroric rise of Commander's Palace, Brennan's influence, inventiveness, and indomitability become increasingly clear. Interviews with critics, New Orleans food scenesters, and members of the extended Brennan clan paint a portrait of an endlessly determined and forward-thinking businesswoman who, with a sort of graceful defiance, fought her way to the top of a formerly traditionalist and male-dominated restaurant culture. She's a terrifically engaging personality in her own interviews, passionate about her family and culture but humbly matter-of-fact about her accomplishments, with a sort of grandmotherly demeanor (she's now in her late 80s) and a lovely accent that mixes southern geniality with tinges of working-class grit.
"…the film doesn't get bogged down in kitchen shoptalk or haute-cuisine snobbery."
The film touches not only on Brennan's steady leadership, but also her risk-taking: developing the concept of the "Jazz Brunch" to drum up business, taking a chance on Prudhomme, whose Cajun-inspired cooking was looked down upon by fine-dining purists, and fighting to reopen Commander's Palace after the devastation of Hurricane Katrina. These events make for some of Commanding the Table's most compelling moments, even though there's little question as to whether or not her gambles eventually paid off.
As fascinating as Brennan is, however, it's fair to question whether a documentary about her would be of interest to those who don't much care about cuisine or the restaurant industry. Commanding the Table makes its play for a less food-savvy audience by emulating the genial-yet-forceful tone of its subject. Iwerks, whose 2006 short Recycled Life was nominated for an Academy Award, keeps the pace brisk and the look and feel decidedly more cinematic than the average PBS or Food Network profile, and while the dishes on display are consistently amazing-looking, the film doesn't get bogged down in kitchen shoptalk or haute-cuisine snobbery.
Of course, there's plenty here for the culinary connoisseur to engage with, as well, but ultimately, Commanding the Table makes Brennan feel vital and worth knowing even outside the field where she's made her name. It's an inspiring thing in a film – particularly a nonfiction film – to see someone who cares so deeply about something, excel at that thing, and a career like Ella Brennan's is absolutely one worth paying tribute to in this medium. The film is incredibly respectful, but that's clearly because Brennan commands incredible respect.
Ella Brennan: Commanding the Table (2016). Directed by Leslie Iwerks. Narrated by Patricia Clarkson. Featuring Ella Brennan, Emeril Lagasse, Tory McPhail, Julia Reed, Paul Prudhomme, Ti Adelaide Martin, Meg Bickford
4 ½ stars out of 5