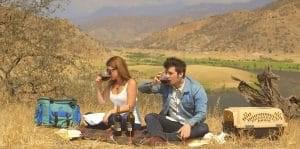 There's an art to making films featuring unlikeable characters. Just because you didn't like the main character that doesn't mean it's a bad movie. Consider Jack Nicholson's Melvin Udall in As Good As It Gets. An abrasive character forced into a situation where he begrudgingly forced to find compassion and empathy within himself. Many hated the film because they hated the character. I would argue that that's the point of the entire movie. I could bring up Larry David's Curb Your Enthusiasm.
I'm foreshadowing this review at the moment. I would never claim to know the secret to the success or failure of such films. I would imagine creating an unlikeable character requires a balance between maintaining character's unlikability, so as to not betray that character's "character" and not pissing off the audience because the character is so damn unlikeable at the same time.
From writer/director/producer/editor/everything/else Austyn Jeffs comes his first feature film, Double Eagle Ranch about unlikeable Marc (Kyle Cooper), a struggling writer by day and insecure narcissist by night. Life for Marc is not going well when gets the news that his beloved grandmother passed away and wanted Marc and his ex-girlfriend Lindsay (Lyndsey Doolen) to spread her ashes around her mountain cabin in Central California known as "Double Eagle Ranch."
"…wanted Marc and his ex-girlfriend…to spread her ashes around her mountain cabin…"
Picking up where they last left off (the break-up) Marc short, demanding request to Lindsay is met with angry reluctance. Still pining for Lindsay's affection, Marc intentionally stretches a day trip to the cabin into an overnighter. On the drive there, awkward silence is met with aggressive verbal sparring. Think of it as how little boys pick on little girls as a sign of affection. The problem for Mac is Lindsay isn't a girl.
Reaching the cabin, Marc and Lindsay retire for the night sharing the same bed. Their attempt to sleep is interrupted by the midnight arrival of Jeff (Joe Hartzler) and Ren (Melissa Hunter), who had rented the cabin weeks prior. Marc forgot to cancel existing reservations before arriving at the cabin. Jeff is a do-gooder. Always polite and concerned about the well-being of others. His only fault is he can be a little abrasive at times. Ren is somewhat of a naïve, free-spirited vegan dabbling as an Etsy crafting entrepreneur.
Double Eagle Ranch is primarily about Marc's story arc. He wallows in the misery of an ex-girlfriend, whom he loves but rebuffs his every advance. Jeff, on the other hand, constantly challenges Marc's negative attitudes. And Ren perplexes him with her optimistic randomness. Now add Marc's deceased grandmother, who haunts him in his dreams.
"…had something I rarely see in independent comedies, good character development."
Marc is a man-child, who has never grown up. Although there is a voice of from Marc as a writer then sounds mature, but it is unclear if these thoughts are current thoughts or reflections of his journey, creating a little disconnect. Throughout 90% of the film, Marc is portrayed as a douche-bag narcissist, whose every action with Jeff, Ren, but mostly Lindsay is for his own benefit (yes, I know that's the definition of a narcissist).
Marc's a bad guy, doing bad things, for bad, selfish reasons and he ultimately takes the others with him. While I think this was intentional from writer/director Jeffs, it made the film hard to watch and a struggle to get through. Marc's path to redemption, if there is one, doesn't start until late in the film, which is asking a lot for audiences to wait for.
While the story may have had some problems, the performances from the principals Kyle Cooper, Lyndsey Doolen, Joe Hartzler, and Melissa Hunter were fantastic. Also, it had something I rarely see in independent comedies, good character development. Doolen delights as a bitter ex, and she has a reason for going on this trip in the first place. As Jeff, Hartzler starts as annoying for comedic reasons but finds justification for his behavior.
If anything, Double Eagle Ranch suffers from being just a version or two away from a good, balanced story.
Double Eagle Ranch (2018) Written and directed by Austyn Jeffs. Starring Kyle Cooper, Lyndsey Doolen, Joe Hartzler, and Melissa Hunter.
4 out of 10 stars