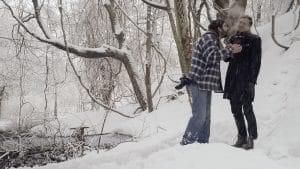 Donald Cried is an indie American dramedy and sympathetic buddy film with much to say about friendship, self-conceitedness, and complacency.
It marks the directorial debut of Kris Avedisian, who also stars as Donald and wrote the script based on his own 2012 short film of the same name.
The camera lens fixates on Peter Latang (Jesse Wakeman), a successful Manhattan banker forced to return to his Rhode Island hometown, where he intends to spend just one night or two in order to take care of things related to his grandmother, who suddenly passed away.
"The wry, dark humor is a constant, both explicit and implicit…"
Peter is visibly exasperated for having to go back to a place that brings embarrassing memories from a slice of his life he wants to forget. Things go from bad to worse when he realizes he left his wallet on the bus with crucial elements like ID, cash, and credit cards. Desperate and irritated, he doesn't know how to react when he sees Donald Treebeck, his former best friend. The latter, after 15 years, still dwells in the past, but is truly glad to see him and insists on hanging out, while Peter, swallowing his superiority, asks for money and a ride.
Before heading to the nursing home where Peter's grandma lived for the last six years, the reconnected friends experience an awkward encounter with a former schoolmate, play football in the snow with a drug dealer, meet with Donald's brute boss and stepfather (Ted Arcidi), and pay a visit to another 'amigo', Toutey (Jeremy Furtado), who, even apathetic and laconic, brings around shameful situations from the past that only increase the nervousness among them.
The film's climax just arrives in the second half, when Peter is cockblocked by the forlorn Donald, when he goes on a date with Kristin (Louisa Krause), a real estate agent whom he first pretended not to know. The scene, simultaneously embarrassing and funny, comes in the sequence of their mourning process, which would never have been the same without smoking weed.
"…an uncomplicated combination of ludicrousness, depression, and cynicism."
The wry, dark humor is a constant, both explicit and implicit, and the garrulous Donald is the one who stirs things up with a disarming honesty, childish imagination, and the slyness of a thief. Just don't expect to find those sympathetic characters typical of this peculiar subgenre.
Apparently, most of the tension evaporates in the air. Hence, Donald Cried could have hastened to raise the pressure. However, if that was the case, this pragmatism that crafts every scene to become plausible and genuinely pulsing could be jeopardized.
Avedisian, opting for a handheld camera instead of fixed shots, succeeds in his efforts to engage audiences with an uncomplicated combination of ludicrousness, depression, and cynicism.
Donald Cried (2017) Written and directed by Kris Avedisian. Starring: Jesse Wakeman, Kris Avedisian, Louisa Krause, Ted Arcidi.
7 out of 10