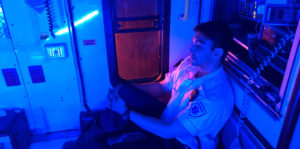 Writer-director Christopher Donaldson's diabolical feature debut, Ditched, is a Canadian horror movie featuring an indigenous actress in the lead. Melina (Marika Sila) is an Inuit paramedic who regains consciousness in a forest after an ambulance being used in a prisoner transport has plunged into a 100-foot deep ditch. Not remembering what happened, Melina stumbles around inside the ambulance while one of the prisoners, Franson (Kris Loranger), tries to sweet-talk her into unshackling him. After getting a taste of his lethal nature, Melina teams up with the surviving cops and medics instead. She tends to the wounds of ambulance driver Jake (Declan O'Reilly) with Aiden (Lee Lopez) helping.
Meanwhile, Officer Revesz (J. Lindsay Robinson) pulls passed out Officer Kerr (Lara Taillon) out of a crashed cop car with a screaming prisoner (Reamonn Joshee) in the rear trying to escape. Unfortunately, things worsen as a dark, hairy shape (Mackenzie Gray) in the woods stalks them. As the group crawls through the wreckage, more and more dark, hairy shapes appear and start closing in.
In the end credits, Donaldson mentions dozens of filmmakers who inspired Ditched. The director from that list whose influence is most apparent is John Carpenter. Some of this is due to the excellent synth-heavy score by Clayton Worbeck. However, Carpenter's thumbprints are all over the Assault on Precinct 13 siege set up in the woods. Also, the visuals of the lurking dark hairy shapes echo The Fog.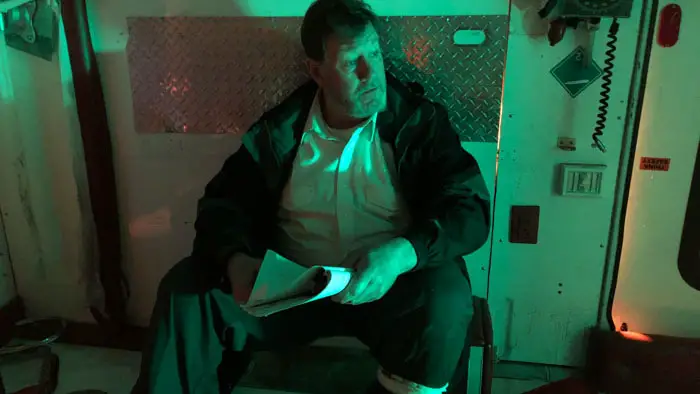 "…an Inuit paramedic…regains consciousness…after an ambulance being used in a prisoner transport has plunged into a 100-foot deep ditch."
Where Donaldson as a director, makes his own imprint is his success of raising Hell in his debut. Ditched has the most accomplished vision of a figurative Hell yet captured in cinema. Many films not set in Hell try to recreate the atmosphere, mainly in noirs or war pictures. The director's expressionistic bathing of the forest in the red lights of the emergency vehicles and flares literally makes the setting look straight out of the infernal pit. That so much intense unnatural lighting is all sourced from sources in the story shows an evil genius at work. Just look at the sick green inside the ambulance that matches Franson's putrid psyche.
This visual descent into Hades is matched by the story's themes that arise from twists that descend on the viewer like a swarm of bats. The script is fiendishly clever. This Hell has a lot more circles than it would seem. The level of grisliness that occurs is agonizing, with stark and wet pain. The atmosphere of damnation is relentless, encompassing the entire movie. When you enter these gates to Satan's playground, you go all the way to the bottom. Horror fans will be surprised and overjoyed. All others risk being obliterated by the intensity.
Special focus needs to be put on Donaldson writing his lead character as an indigenous woman. Inuvialuit actress Marika Sila absolutely kills it, and it is of deadly importance that she had the opportunity. Genre pictures are perfect places to expand representation, as anyone, no matter who, can run through a fountain of blood and make it work. Indigenous representation is growing, and Ditched feels almost futuristic in how smoothly Sila takes the reins of the hero's role in the picture. It is almost like we are already at that point in history where we have indigenous leads in great movies all the time. Maybe this has something to do with it being a Canadian picture. Like a notorious roller coaster that has killed several people, the film will be a ride you will not forget, but some won't survive.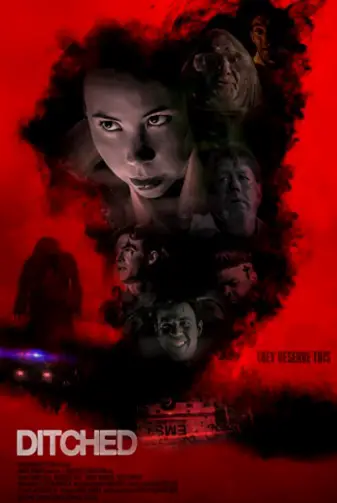 "…the most accomplished vision of a figurative Hell yet captured in cinema."