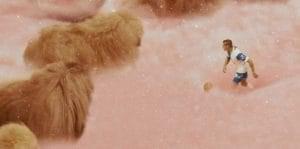 The directing team of Gabriel Abrantes and Daniel Schmidt, who formerly worked together on A History of Mutual Respect, put together quite a screamer with their psychedelic satire Diamantino.
Set in Lisbon, Portugal, the film centers around international football sensation, Diamantino (think Cristiano Ronaldo, because Diamantino is without a doubt a caricature of the beloved footballer). Diamantino is a pretty simple guy. He doesn't think about much. He loves his family, which includes his extraordinarily loving and supportive father, and his rather diabolical twin sisters. He likes football and his mind is mostly occupied by gigantic Pekingese puppies, which is how he envisions the other players on the field during games. He has pillow cases and bedsheets with his own face on them and he loves waffles, crepes, and nutella. He's trustworthy and loving to a fault, and, to be quite frank, is pretty dumb.
At the beginning of the film, we see Diamantino on the field with his puppies, scoring a very important goal, and winning the game. Afterwards, he is in the middle of the ocean on his yacht with his father, sisters, and hangers-on. He's sitting on the edge of the boat with his father when a refugee raft approaches. Diamantino and his father help the refugees onto the boat, all except one woman who refuses because her son just drowned.
"…his sisters…basically every evil Disney Queen…take charge of his career, to dangerous results for poor Diamantino."
The next day at a very important game in the World Cup, Diamantino is faced with a tie-making penalty kick. Instead of seeing what he calls "the fluffy puppies" in his mind, he sees images of the refugee woman who didn't get on the boat. He misses the penalty kick and afterwards start crying. While this is happening, Diamantino's beloved father dies as well. His sisters, who are basically every evil Disney Queen combined, then take charge of his career, to dangerous results for poor Diamantino.
From here on out, the movie goes in about a million different directions, but surprisingly, it works. There is a government conspiracy, a lesbian secret agent disguised as a nun on a motorcycle, clones, a grown woman masquerading as a little boy, and Diamantino's sisters (who are twins in real life) being mean as snakes. There's also some pretty direct finger-pointing at American politics with Diamantino starring in a nationalistic commercial in which he says "Make Portugal Great Again".
"…goes in about a million different directions, but surprisingly, it works."
Diamantino is kind of like if Peter Sellers starred in an Alejandro Jodorowsky movie, written by Terry Gilliam, but disguised himself as an extremely hot Portuguese man that sometimes has breasts…yeah…it's about that insane. It won the Critics Week Grand Prize at Cannes, which makes perfect sense upon watching.  The cross cultural influences of Schmidt and Abrantes makes the film accessible to both European and American audiences while also being extremely off-the-wall. Even when talking to other writers and audience members after seeing the film, there was a mixed reaction. One definitely has to have an appreciation of the absurd to enjoy Diamantino. That being said, if you are a fan of weird films, this one will be right up your alley.
Diamantino Written and directed by Gabriel Abrantes and Daniel Schmidt. Starring Carloto Cotta, Cleo Tavares, Anabela Moreira, Margarida Moreira, Carla Maciel, Felipe Vargas, Manuela Moura Guedes, Joan Barrios, and Maria Leite.
8 out of 10 stars