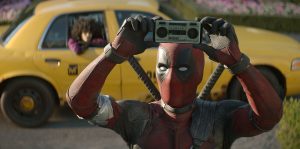 On Marc Maron's podcast WTF, Josh Brolin says that in all the years he's made a living as a thespian, no actor has been better suited to play a role than Ryan Reynolds at playing Wade Wilson, the "Merc with a Mouth."
While actors always say nice things about each other when they have movies to plug, Brolin speaks with authority here. The athletic Canadian delivers vulgar putdowns just as easily as he can swing battle swords. As a result, Deadpool 2 seems less like a sequel and more like the promise of the first movie fulfilled.
Now, screenwriters Rhett Reese and Paul Wernick and Reynolds (who shares a writing credit with them) don't have to explain how Wade a.k.a. Deadpool can recover from injuries that would kill or disable most people. The three of them can now concentrate on a story. As a result, the new movie is still loaded with plenty of in-jokes for fans, but Deadpool has an emotional life to go with all the sexual misbehavior he gets into.
Former stuntman David Leitch (John Wick, Atomic Blonde) expectedly delivers plenty of quick-paced hand-to-hand combat and pyrotechnics, but he also manages to make viewers, dare I say it, care about whether Deadpool can be as happy as he is naughty.
"…Deadpool and Russell wind up in a prison wearing special collars…"
When his latest assignment ends in more fatalities than usual, Deadpool develops a crisis of conscience and even tries to join fellow mutants the X-Men in fighting crimes.
Of course, even in his downbeat emotional state, Deadpool is incapable of playing well with others. He tries to stop his peers from mistreating an angry teen mutant named Russell (Julian Dennison, Hunt for the Wilderpeople). Russell understandably hates being stuck in a juvenile mutant detention facility, but his anger issues are deadly when combined with his ability to start fires without a Bic.
Thanks to some property damage, both Deadpool and Russell wind up in a prison where special collars prevent them from using their powers. In the case of the former, this is potentially fatal because his mutation allows him to heal from anything. Without it, he's dying of cancer.
Before you start to wonder if Zack Snyder has taken over the franchise and imbued it with his own morose sensibilities, a killer cyborg from the future named Cable (Brolin, not Arnold Schwarzenegger) arrives and is determined to kill Russell before the lad becomes a flammable weapon of mass destruction.
Just as Deadpool is a clown blessed with superpowers and a face like a waterlogged mole rat, Brolin's Cable is as sympathetic as he his lethal. He has an excellent reason for wanting to send Russell into the mutant afterlife, and Brolin has a gift for playing characters who can't demonstrate their emotions but still have them.
"…less like a sequel and more like the promise…"
In Vaudeville, straight men made more money than comics because it was rare to find someone who had a comedian's sense of timing but without a hunger for attention. There's actually more tension in the dispute over Russell's fate because both combatants are justified. With a one-dimensional hero or villain, the conflict isn't that interesting.
Leitch's ability to create violent eye-candy is a given, but he and the screenwriters find the right balance between irreverence and storytelling. They keep Deadpool 2 from becoming an exercise in grisly self-indulgence. Leitch asks Reynolds to play emotions other than sarcasm, and the actor consistently delivers.
There is also a menagerie of new mutants joining Deadpool, some of whom have gifts that are less than useful. Fortunately, Domino (Zazie Beetz) can dodge potential wounds just as easily as Deadpool can recover from them.
That said, the wisecracks keep what could be a morbid mess from being off-putting. Yes, there are more silly credits (the one for Leitch is a true keeper), and the closing titles feature a series of gags that will warm the heart of any Marvel enthusiast.
Perhaps Deadpool 2 works because the title character saves most of his fury for the fourth wall.
Deadpool 2 (2018) Directed by David Leitch. Written by Rhett Reese, Paul Wernick, and Ryan Reynolds. Cast: Ryan Reynolds, Josh Brolin, Zazie Beetz, Julian Dennison, T.J. Miller, Brianna Hildebrand, Leslie Uggams, Eddie Marsan, Morena Baccarin, Bill Skarsgård, Rob Delaney, Karan Soni, and Stefan Kapicic.
9 out of 10