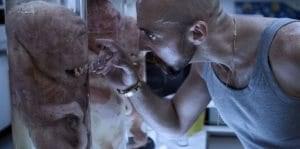 Among his other accomplishments, the 17th-century British philosopher Thomas Hobbes is remembered as the author who coined the oft-repeated descriptive phrase, "nasty, brutish, and short."
Hobbes, never a particularly cheerful guy, strung those adjectives together to describe life during wartime. Little did he know, though, that one day, they'd also serve as a perfectly accurate three-word review for the 21st-century horror film Dead House.
Running just over 70 minutes, the Italian-produced, English-language feature contains more than enough unpleasantness to fill a movie three times that length – nasty, brutish, and short, indeed. Add "boring" and "pointless" to Hobbes' words, and you've got Dead House pretty much nailed.
On paper, the film's concept isn't terrible; it's a home-invasion thriller with a zombie-horror twist, with antagonists both living and dead threatening the lives of its (relatively) "good" characters. That might bring to mind something like the bikers/zombies/heroes fracas of the second half of George Romero's Dawn of the Dead, but Dead House has none of that classic film's wit, substance, finely wrought human drama, or beautifully orchestrated mayhem.
"…three pieces of human garbage…threaten and torture a normal-seeming upper-class family in their supposedly isolated countryside mansion…"
What's mostly there in place of those things is unrepentant sadism and vileness, played completely straight but lacking any sort of subtextual or stylistic justification for its existence. It's a small consolation, maybe, but at least Dead House lets viewers know what they're in for even before its opening credits begin: in the film's heinously drawn-out cold open, its villains force a middle-aged couple to have sex in front of their teenage daughter, then systematically murder the whole family, and, finally, desecrate the corpses before they leave.