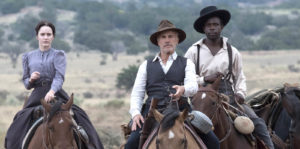 When one thinks of the prototypical Western, oftentimes, the initial thoughts are of two men on opposite sides of the moral spectrum careening towards a dramatic showdown in a sun-drenched vista or a deserted town. It's baked into our expectations of the genre. So when director Walter Hill brings two A-list stars like Christoph Waltz and Willem Dafoe together for an action-packed romp in the American West, the possibilities make one's mind do somersaults. This is especially true when the aforementioned performers are paired with rising star Rachel Brosnahan, such as in Dead for a Dollar, which Hill wrote with Matt Harris.
Waltz plays Max Borlund, a professional bounty hunter hired by a successful businessman to find his wife Rachel (Brosnahan), who has been taken across the Mexican border by Elijah (Brandon Scott), a Black Army deserter. Joining Max on his mission is Sergeant Poe (Warren Burke), an ace marksman and former acquaintance of Elijah. But saving (?) Rachel is just the beginning for Max as local gangster Tiberio (Benjamin Bratt) doesn't want any outside interference, especially from gringos like the bounty hunter. On top of that, crazed ex-con Joe Cribbens (Dafoe) is on the warpath of revenge.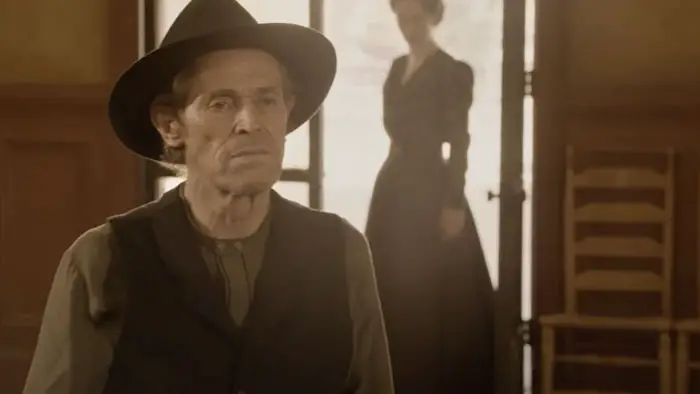 "…a professional bounty hunter hired by a successful businessman to find his wife…"
On the surface, it seems as if Dead for a Dollar has all the right pieces for a modern Western success, but upon closer examination, the pieces don't exactly fit. Brosnahan, Waltz, and Dafoe are excellent (as one would naturally expect), but they tend to overshadow the rest of the cast, making the audience yearn for an increased focus on those three. The relationship between Max and Joe is just begging to be fleshed out a bit. It would have made the much-anticipated conclusion infinitely more poignant were we able to dig into their past more closely prior to their inevitable clash.
But the biggest shortcoming isn't this is bad or unwatchable because it has a lot going for it when it comes to the cast. It just never escapes feeling like a paint-by-numbers exercise in genre tropes that run the risk of feeling overly vanilla. There's nothing inherently wrong with being beholden to the classics of the past, but at some point, every "great" film manages to find a unique quality that separates it from the pack. Whether it's the plain dialogue that never moves the needle outside of Brosnahan's intense delivery or the costumes that are shockingly clean in a world of dust and sand, this is in desperate need of an added boost of personality. One can't just slap cowboy hats on actors and expect to have an engrossing Western.
For those that can't resist the temptation of seeing Waltz and Dafoe on opposite sides of a duel, it might be worth it in the long run to check this out. There's definitely a shortage of Westerns in modern cinema, and while Dead for a Dollar may not make one toss out their copy of The Searchers, it's still a refreshing change of pace seeing three excellent actors in an uncommon genre. When it comes to its originality, though, we're left watching the tumbleweeds float on by.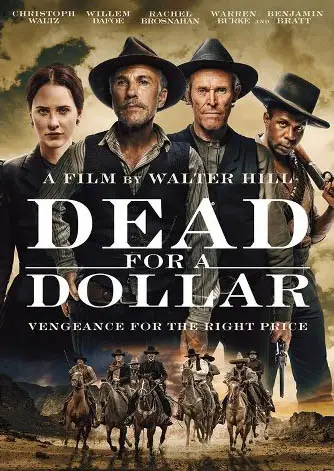 "…Brosnahan, Waltz, and Dafoe are excellent..."