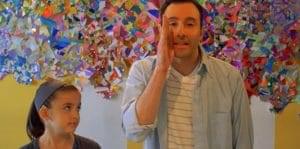 If you asked me about my top five films, Singin' in the Rain is on that list. I'm a fan of the feel good, song and tap films of old. Singin' in the Rain has its flaws. The story is uninspired and worked about the dance numbers and let's face it; Gene Kelly is not a great actor. But man, can he dance!
So along comes Dance Baby Dance from writer/director/star Stephen Kogon. I have a feeling that he feels the same way about Singin' in the Rain as I do. I appreciate a person, who falls in love with an art form, trains in that art form, and then makes a movie about that art form. Unfortunately, watching Dance Baby Dance is like watching my daughter's dance recital, if my daughter was a middle-aged man.
Jimmy Percer (Stephen Kogon) is a dreamer and a tapper. His dream is to tap his way into a national dance showcase. But Jimmy's dream was sidelined by a tap-related knee injury. Struggling to support his family financially, Jimmy got a real job but has secretly been rehabilitating himself to his former professional tap shape.
"…one last chance to fulfill his dream of joining a national dance showcase."
Everyone loves Jimmy including his wife Tess (Beverley Mitchell), his boss Mr. Dalymple (Jim O'Heir), even Hector (Carlos Alazraqui), the owner of the dance studio where Jimmy rehearses. Jimmy has one last chance to fulfill his dream of joining a national dance showcase. There's an audition that Hector is hosting, but Jimmy's knee isn't 100%, and he also needs $1,000 for the entry fee.
At home, Tess is concerned they can't afford the $1,000 entry fee, but she is 100% supportive of Jimmy. To complicate matters, Tess' sister, Camille, (Clare Grant) and her daughter, Kit (Hayley Shukiar), move in with Tess and Jimmy after Camille's husband leaves her. Hurt by her father's abandonment; Kit has not only lost her passion for life; she lost her passion for dance.
As silly as this synopsis is, it's a lot more exciting than actual story played out in the film. What should be a story of the underdog overcoming the odds, we have a story that lacks inspiration and hope. Kogon's acting has a lot to do with the film's shortcomings. He has a smile and cheery disposition; I won't say annoying, that prevents the serious moments the film needs from being taken seriously. He's a nice guy, but as they say, "nice guys can't do drama."
Fortunately, Kogon is playing against actress Beverley Mitchell. She's strong enough to carry Kogon to make their scenes together tolerable. As for everyone else, there are a lot of cringe-worthy moments.
"…dance footage is just as uninspired as the dancing."
But this is a dance film. Sadly, the dance is mediocre at best. Kogon does bring a few ringers with skills, but not good enough to warrant a feature film. Overall, Kogon's skills as a tap dancer are not bad, but not great at all. Let's talk choreography. The dance and music should work hand-in-hand. The tap should act as a member of the band and feel like they intertwine together. While Kogon and company can indeed tap, it feels like the music purely serves as background to each routine. Sometimes you can't hear the music above the tap.
The final nail in this coffin called Dance Baby Dance is the cinematography. The dance footage is just as uninspired as the dancing. There were basically three camera angles for each routine. One wide shot featuring a full body shot, but shot with the camera center on the upper half of the body. In other words, as if I shot it with a slight downward angle. The other two shots were lower body and upper body. While the lower body shot was a close-up on the tapping, the upper body shot was cheerful facial expressions and limited hand motions. My advice: next time, what the classic dance films and copy the way they shot their dance sequences.
You'll see Dance Baby Dance because you want to support a passionate artist and his/her dream of "putting on a show." I don't want to be a dream killer, but the idea that "if you film it, they will watch" does not apply here.
Dance Baby Dance (2018) Written and directed by Stephen Kogon. Starring Stephen Kobon, Beverley Mitchell, Clare Grant, Jim O'Heir, Carlos Alazraqui, and Hayley Shukiar.
1.5 out of 5 stars