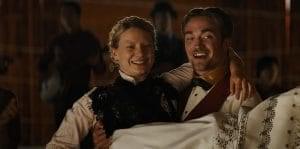 David and Nathan Zellner wrote, directed, and star in the unconventional and off-beat comedic Western, Damsel. This quirky film is an acquired taste. Viewers enter the theater expecting the unexpected, yet it still manages to be stranger than imagined.
Parson Henry stumbles into his new occupation by happenstance. As a result, Samuel (Robert Pattinson) hires the Parson to marry him and his beloved Penelope (Mia Wasikowska), but there's a catch. His damsel is in distress. She's been kidnapped and they're going to rescue her.
The Parson didn't sign up for this, but he can't turn his back on True Love. He also won't turn down some extra money. As they journey through the stereotypical Wild West (complete with the threat of encountering "dangerous" Native Americans), Samuel tells their love story. He even shares a ridiculous song he's written for his betrothed.
"The Parson didn't sign up for this, but he can't turn his back on True Love…"
While the Parson may be impressed by Samuel's skills as a "bonafide troubadour," Pattinson's performance feels more like an awkward imitation of Justin Timberlake in a silly Saturday Night Live sketch. His commitment to the character is commendable, but it feels like a caricature. We also see Wasikowska once again playing the role of a strong, independent and fearless woman who is ahead of her time. She is not your typical damsel, which is a good thing.
Despite the expected star power of Pattinson and Wasikowska, the real scene stealer in this film is a miniature horse named Buttercup. She is Samuel's wedding gift to Penelope. Whenever tensions rise, sweet Buttercup is the one who viewers may find themselves worrying the most about.  
The filmmakers' intention is clear. The Zellner Brothers wanted to create something that pokes fun at the genre and mixes things up in a creative and refreshing way. Unfortunately, the result is mildly funny and disappointingly predictable film. Damsel may not meet your expectations, but it will still make you laugh.  
Damsel (2018) Written and directed by David Zellner, Nathan Zellner. Starring Robert Pattinson, Mia Wasikowska, David Zellner, and Nathan Zellner. Damsel screened as part of the 2018 San Francisco International Film Festival.
2.5 out of 5 stars