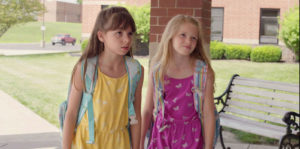 David Tittone and David Torre's comedy series, Daddy's Divas, does what I wish a lot of "family-friendly" shows would do. It gets a little dark, and the co-directors/co-writers aren't afraid to tarnish their story and characters a bit. It doesn't always have to be sunshine and lollipops. Give your characters some severe flaws.
Daddy's Divas is the story of widower Michael Hill (David Tittone) and his adventures with his twin daughters — Brooklyn (Kaitlyn Klinginsmith) and Jocelyn (Jocelyn Hill) — and infant Adalyn (Kylie Klinginsmith). The family learns to go on after the recent death of their mother. In episode one, the twins find themselves in hot water after filming a YouTube prank on their teacher Carly (Kim Palmer). Of course, Michael finds it hilarious, but Carly and Principal Henderson (Sonny Gaitan) are not amused.
We are soon introduced to Michael's sister Tiffany (Christie Courville), her henpecked husband, Bradley (Jeffrey Staab), Michael's mother, Carol (Dawn Linneman), and lastly, brother-in-law Anthony (Shawn Erick Jones). Ah, but the intrigue doesn't stop there. In later episodes, Michael and teacher Carly start dating one another, and apparently, mother Carol has been dating principal Henderson. Anthony is Tiffany's brother but affectionately calls Carol "mother." Did I mention the authoritarian HOA President and the members of the tough but huggable Flying Bandits Biker Gang?
Daddy's Divas is a fully developed ten-episode series. Every character works against and manipulates one another for their own selfish purposes. Each episode highlights one character's wacky adventures, ultimately getting Michael into trouble. The twins buck authority and give the school staff food poisoning for the sake of YouTube content. Anthony and Bradley compete for the top spot of a Fried Chicken mascot. Tiffany's quest for pageant queendom seems to get in everyone's way. In another, Michael and Principal Henderson spend the night together in jail to hammer out their differences. Now add an all-out family water-gun war.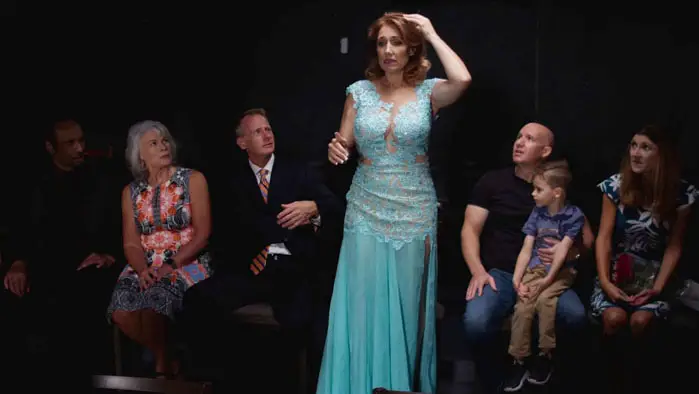 "The family learns to go on after the recent death of their mother."
The show falls squarely in the independent, family-friendly world of entertainment. Its budget is noticeably low, but I like the lite-dark tone of the series. Each episode tends to end in calamity rather than reciting some sanitized moral message of brotherhood and unity. Let's have fun at the expense of the main characters.
The overall quality of Daddy's Divas is a different matter from the writing. To indie filmmakers, it's important to produce your art no matter what. As such, I have great respect for the show's creators, Tittone and Torre. Creating ten twenty-minute episodes is a massive undertaking from an indie standpoint. It's so easy to give up under the time and pressure it takes to produce over three hours of content.
However, there are so many characters in the series that the filmmakers must juggle and maintain to tell a wide variety of stories to cover all the episodes. With that in mind, the scripts could have used a few more drafts to punch up the jokes and smooth out the overall story arc. But, at the same time, for a project this massive, you've got to stop somewhere and just make the show. There's nothing about this show that can't evolve and mature over time.
On the positive side, David Tittone is fantastic as Michael, as he is the glue that holds the story together. Sisters Kaitlyn and Madelyn Klinginsmith are quite devious as budding YouTube stars. Finally, I want to point out Micahel McQuary as the priest, angel, and the plethora of other over-the-top comedic characters he plays.
I think you'll find Daddy's Divas more silly than funny. But, as emerging filmmakers, Tittone and Torre manage to create exciting characters, place them in wacky situations, and create a fun final product in the end.
For more information, visit the Daddy's Divas official Facebook page.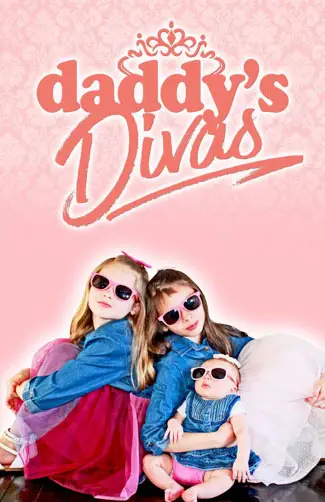 "…exciting characters...wacky situations...a fun final product in the end."