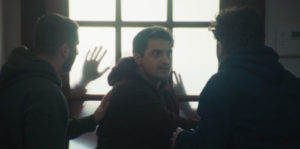 Written and directed by Neal Kelley and Jono Sherman, Daddy is set slightly in the future. Society now has strict laws governing who and who cannot become a parent. After an initial screening, candidates are placed in a government program/retreat to prove they can be parents via planned sessions with an official representative.
Well, when Jeremy (Jono Sherman), Sebastian (Yuriy Sardarov), Andrew (Neal Kelley), and Mo (Pomme Koch) show up for their retreat, they find themselves alone. There are no guides, instructions, nor a government employee. At first, they think this is part of the process, so they settle in and get to know each other a little bit. But as the days tick by, the lack of clarity on what to do and uncertainty over being forgotten at this secluded cabin in the woods starts to wear on them. Even more, complications arise when Ally (Jacqueline Toboni) knocks on the door claiming her car breakdown a little ways down the road. Is she for real, or is she a test the men must pass? If so, how do they pass? For that matter, how do they know when they've completed the entire course?
Daddy has a lot going for it, but there is one negative. The ending is so open-ended that it mutes whatever the filmmakers are hoping to say. Of course, spoiling it would be unfair, but it can be read in a number of ways: optimistically, pessimistically, coincidental, or pre-planned from the get-go. If some of that seems contradictory, it is. And that is the problem. Kelley and Sherman never come down on a specific theme to carry the story home.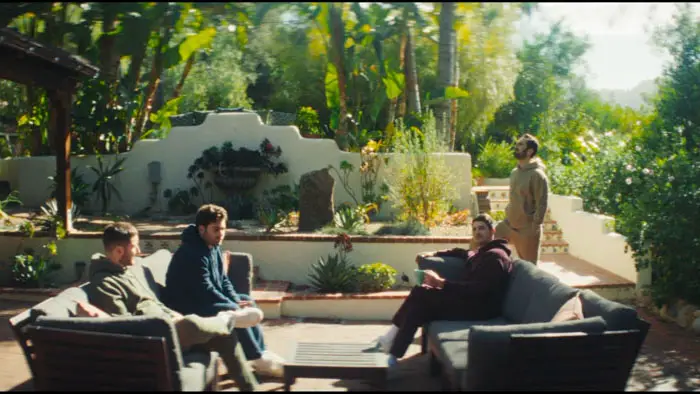 "…no guides, instructions, nor a government employee."
However, everything before then works wonderfully. For starters, Sherman, Sardarov, Kelley, and Koch are fantastic together. The foursome plays off each other well, building a sense of genuine friendship while keeping the tension of uncertainty high. This coalesces in a delightfully hysterical dance number that is the highlight of the whole movie. Individually each actor gives a solid performance. Toboni doesn't have much screen time, but she makes a big impression.
With Daddy, Kelley and Sherman have a clear sense of tone and timing. No scene goes on too long, and each moment serves a distinct purpose (again, minus the very end). The dinner sequence where the baby doll that was already in the house is named is both dramatic and funny.
Daddy is a lot of fun, sporting an original premise and a wonderful balance of humor and drama. On top of that, the cast is perfect and will hopefully be on screen as an ensemble again. Too bad that what the filmmakers want to say by the end is none too clear.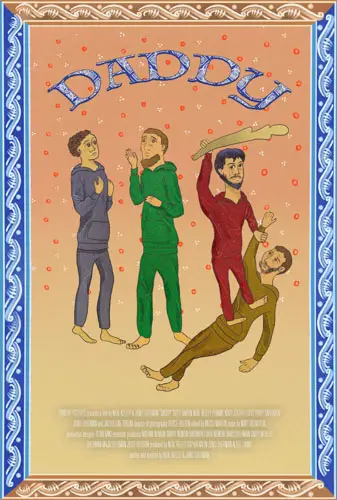 "…Sherman, Sardarov, Kelley, and Koch are fantastic..."