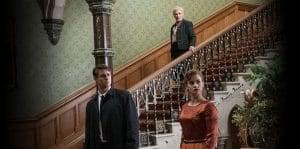 The question has to be asked. Just because you have the rights to a famous novel by a famous author, do you really need to adapt it to a film. Films are so limited, especially by time, that it rarely does justice to the original source.
Crooked House is the film adaptation of Agatha Christie's 1949 novel of the same title. The very rich and powerful family patriarch Anstide Leonides is dead. Detective and former intelligence agent, Charles Hayward (Max Irons) is asked by Anstide's beloved granddaughter, Sophia (Stefanie Martini) to investigate his murder. As you would expect from Agatha Christie, she brings an interesting set of suspects—all with a motive for murder.
"Hayward and Sophia were romantically involved…both unaware of the other's true identity…"
Who are the suspects? Why family of course: Brenda (Christina Hendricks), his much younger wife; son Roger (Christian McKay) and wife Clemency both failures in business; and Philip (Julian Sands) and his actress wife, Magda (Gillian Anderson) upset that Anstide would not finance her film, let alone read the script.
Let's also include a will-in-question. And a few complicated relationships. Specifically, Hayward and Sophia were romantically involved years before in Cairo during World War II. Both unaware of the other's true identity as an intelligence agent and heiress.
I love a good mystery. Maybe after years of watching Law and Order, crazy plots and unusual crimes are not that surprising anymore. Arresting the murderer only to find it was someone else is an overused plot device, granted it was probably a fresh idea to Christie in 1949.
"The fun of a mystery is solving the crime based on the clues presented…"
My original comment about film adaptations based on classic novels comes from the fact that Crooked House is only 115 minutes. While the overall story is interesting, the movie's plot and resolution feel rushed. My guess is huge sections of the book were removed for time, which means character development is underdeveloped.
The fun of a mystery is solving the crime based on the clues presented, but the clues don't necessarily lead to the conclusion. It feels like we're just stumbling over the final reveal.
Despite these complaints, Crooked House is worth watching. The story is interesting enough to follow, but you may feel a little empty at the end. The acting is top notch. Max Irons and Stephanie Martini are alluring as the love stuck leads doomed to a complicated relationship. I also love seeing Glenn Close and Terence Stamp in anything.
Just because you can, doesn't mean you should. A feature-length film is not the right medium for a novel. It needs to be aged like a good wine in order to appreciate the characters Christie created. Mysteries are less about the crime than it is about those who commit them.
Crooked House (2017) Directed by Gilles Paquet-Brenner. Written by Julian Fellowes. Starring Max Irons, Stefanie Martini, Christina Hendricks, Gillian Anderson, Glenn Close, Julian Sands.
3 out of 5 stars