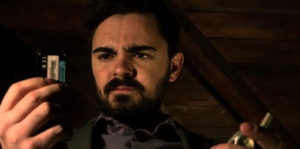 Ask most people what they did during their quarantine days, and their answers are likely to be not only similar but also similarly mundane: binge-watching Tiger King, putting together jigsaw puzzles, reorganizing their sock drawers, et. But Peter Algiers found an altogether more interesting way to pass the time, rounding up some friends and family members – along with a few easily attainable household items – and making a full-length feature film. Confined is the result, a 67-minute exercise in absolute cinematic minimalism made in a single location with as few participants behind the scenes and in front of the camera as possible.
With that in mind, and considering the budget (a princely sum of $175, according to IMDB), it's easy enough to overlook the thriller's technical shortcomings: the camerawork isn't very dynamic, the lighting is inconsistent, the audio quality ranges from passable to a little muddy. Still, the cast and crew manage to tell a complete story despite the obvious limitations. Plus, the dependable premise is compelling enough to maintain a rooting interest throughout.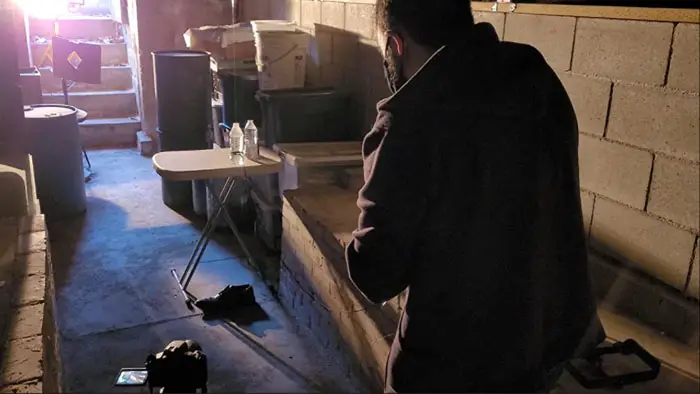 "…James, an ordinary guy who wakes up…chained to the floor…"
Peter Algiers (the only cast member who appears on-screen) plays James, an ordinary guy who wakes up in a cramped, moderately run-down basement, chained to the floor and completely alone. Close by, but maddeningly out-of-reach, are a few potentially helpful items arranged on a folding table: two bottles of water, a cooking pot, and an early 2000s-era cell phone. His predicament isn't that far off from the one in James Wan's Saw, but James is arguably even worse off than the imprisoned characters in that gut-wrenching franchise-starter – he doesn't even have the necessary tools to escape via self-dismemberment.
James' efforts to get out of this situation drives Confined, as the pressing questions of who put him here and why weigh on the character. Oddly, James himself doesn't seem to be nearly as bothered by his apparent kidnapping and imprisonment as he ought to be. The reasons for his laid-back approach to things are sort of made clear in the conclusion, though it kills a lot of potential suspense on the way there. Yes, James does eventually contact the outside world using that phone, though his only physical companionship is provided by a rat (a real, honest-to-goodness rat!) who steals every scene he's in.