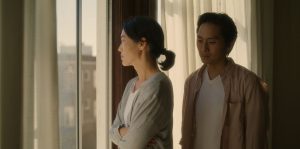 Director Wayne Wang has been one of the early pioneers of Asian-American cinema. He's been behind the camera of some important stories, most prominently The Joy Luck Club and Chan is Missing. I'll even throw Maid in Manhattan in the mix. Wang returns after a long stint overseas with his latest feature, Coming Home Again.
Chang-rae (Justin Chon) is a first-generation Korean-American returning to his family home in San Francisco to care for his mother during the last legs of her fight with cancer. The story takes place over a single day as Chang-rae, the supportive first-born son, prepares a traditional Korean New Year's Eve dinner for his parents and sister as a way to honor his mother.
As Chang-rae prepares the house, the dinner, and cares for his mother's needs, we flashback to important family moments, leading to the estrangement of the family. Most of the tension surrounds Chang-rae's choice to attend a university on the east coast and leave his family behind, particularly his mother. The weight of that decision and the consequences (his mother's illness) weighs heavily on Chang-rae.
Coming Home Again, to me, is a fascinating exercise in storytelling. The main thread is Chang-rae's preparation of the night's feast, from food prep to scraping paint off the walls. His chores are intercut with memories of the past as it compounds the growing disappointment Chang-rae has with himself and leads to a powder keg moment in the end.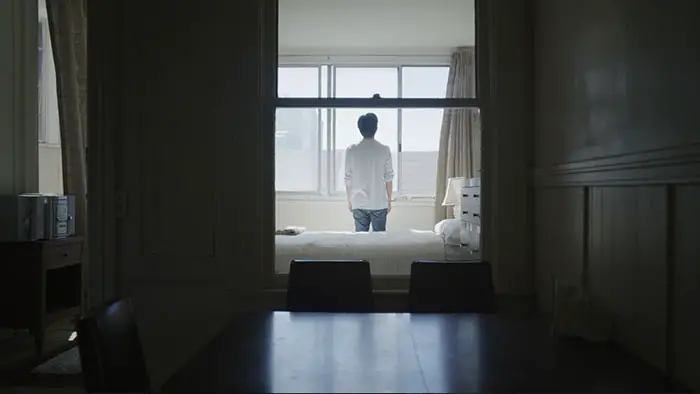 "…returning to his family home in San Francisco to care for his mother during the last legs of her fight with cancer."
Fair warning, Wang's Coming Home Again is a low-key dramatic piece. As intended, it moves slowly and is reflective. It's a character piece about impending death, loss, and unfulfilled expectations. Acting-wise the film's highlights are Justin Chon as Chang-rae and Jackie Chung as his mother. Their relationship will feel familiar to Asian-Americans as it hits on the immigrant generation's reserved nature, that sacrifice everything to come to the States, juxtaposed against the first generation's need to explore and understand one's feelings and familial relationships.
Let me brag on Justin Chon for a moment. I first met Justin at a press event for the Los Angeles Asian American Film Festival. He walked up to me and asked me if I'd like to interview him about his film Man Up! appearing on this new streaming service called Netflix. Since then, I've had the opportunity to talk to him about his films Gook and Ms. Purple. It's fascinating to see the growth and evolution of this actor/writer/director. His past work is impressive (maybe not so much Man Up!), and I can't wait to see what comes next.
Back to the film. Coming Home Again, along with telling an excellent heart-breaking story of loss, is designed to make you feel and empathize—not just from the story and acting but also from its cinematography. It uses color tone to denote the cold, sterile present against the warmth of past memories and uses wide-angle shots in the present to represent emotional distance.
It's important to know what you're getting into. Wang spends a great deal of time setting the stage as Coming Home Again, starts slow, and gradually builds momentum to the end. Its priority for the first two acts is to set up the emotional truths of this serious situation to lead to a big payoff in the end.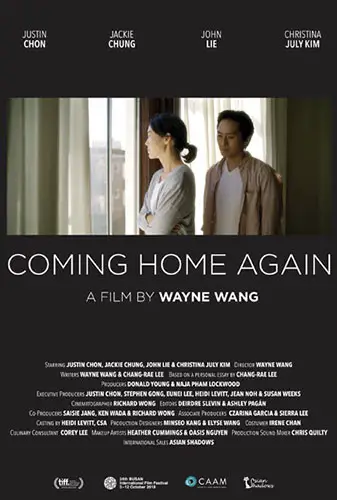 "…designed to make you feel and empathize..."