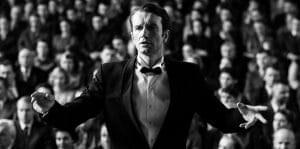 Cold War, the new drama from the acclaimed Polish director Pawel Pawlikowski (My Summer of Love, Ida), sets a painfully moving story about two musicians in love, whose relationship is curbed by the austere post-war regime of a Stalinist Poland. Bearing the stamp of a classic, the film is tinged with shades of Truffaut and enjoyable musical moments that range from local folk to jazz. The script is loosely based on the director's parents and the time frame of its narrative spans 15 years.
In 1949, while auditioning for the national ensemble, Zula (Joanna Kulig) amazes Wiktor (Tomasz Kot), a talented pianist and musical director, not only with her pure voice but also with her natural beauty. They become secret lovers, engendering a plan to escape to France while in Berlin for a public performance. Wiktor actually makes his way to Paris, where he becomes a jazz musician and arranger, while the inflexible Zula deliberately misses the opportunity to join him and follow the dream.
"They become secret lovers, engendering a plan to escape to France while in Berlin…"
They reunite briefly in Yugoslavia years later, and then in Paris, at a time when she was already a married woman – "It didn't count" she explains, because it wasn't made official by the church. Despite the bliss of the encounter and the productive musical collaboration, the two lovers had changed with the time, especially Wiktor, who became an inexorable businessman. In turn, Zula gets more and more insecure about their relationship. She decides of going back to Poland, where they met once again in 1964 in strange circumstances. He is punished with prison for having betrayed the nation, a situation that forces her to marry the despicable Lech Kaczmarek (Borys Szyc), the orchestra's highly influential manager, who was always attracted to her.
Wrapped in deepest melancholy, Cold War has no idle or frivolous scenes since everything fits and flows under Pawlikowski's masterful direction. It is a simply told, beautifully composed piece of work in which the black-and-white cinematography by Lukasz Zal enhances the dramatic tones of a decadent and ultimately tragic romance. You would ask yourself if the mishap was created by personal choices or simply fate.  It's hard to judge, but I would say a bit of both.
Cold War (2018) Directed by Pawel Pawlikowski. Written by Pawel Pawlikowski and Janusz Glowacki. Starring Joanna Kulig, Tomasz Kot, Borys Szyc.
8 out of 10 stars