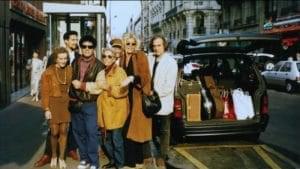 Chavela Vargas has been described as "the rough voice of tenderness", a singer who managed to capture the spirit of her culture and articulate life's universal struggles in a career of haunting melodies. Directors Catherine Gund and Daresha Kyi fill their document of this seminal performer with a treasure trove of material spanning over 50 years. Their blending of different documentary styles paint a daring portrait of one of the more important figures of the 20th and 21st Centuries, beyond her unconventional-yet-powerful renditions of Mexican rancheras. Chavela manages to make its titular subject personable and accessible for newcomers, all the while providing a bittersweet love letter which all fans can appreciate.
"…a daring portrait of one of the more important figures of the 20th and 21st Centuries."
A mournful opening credit sequence immediately sets the tone as we join Vargas at the height of her career in the late 1960s, after which her life is mostly traipsed in chronological order. Stock footage, publicity and private photos, informal and formal audio and video interviews construct her beginnings in Costa Rica, her early fame in Mexico, her dangerous alcoholism contributing to an early retirement, to her meteoric resurgence in Spain on the international stage. Each recollection provided by friends, colleagues, former lovers, artists, and Vargas herself flow along with performance footage and mastered audio tracks produced throughout her career (with translated lyrics) which provides the doc with a beautifully evocative ambience. Chavela's 93-minute "lyrical structure" provides the necessary context for Vargas' life as a worldly singer, as a lesbian icon, and a purely individualistic woman, delivering heaps of loving praise while grounding its subject in her (sometimes) bitter reality.
Gund, Natalia Cuevas and Paula Gutiérrez Orio explore a host of different techniques and attitudes, producing a healthy mixture of playful and pensive cinematography echoing the uniqueness of their subject. Carla Gutierrez, whose high-profile edits includes When Two Worlds Collide (2016) and RBG (2018), reaffirms her indomitable craft with a cut that contemplates the music more often than information on/from Vargas, blending the participatory and the performative with the poetic. Though this produced a scattering of abrupt pauses and mild tonal shifts, as rarely are these styles completely harmonious together, Gutierrez, Gund and Kyi still pull together a surprising and meritorious edit. Neil Cedar's sound design is well-mixed and mastered, coalescing each interview and performance into a seamless experience. And most notable is Gund and Kyi's work with Lilah Wilson on the organization of the soundtrack (and original score by Gil Talmi), enabling every song to mirror each leg of the journey.
"…a healthy mixture of playful and pensive."
Vargas passed away in 2012, leaving behind a massive legacy as a musical artist, a cultural rebel, a social icon, and a multifaceted human being. Gund and Kyi parse the facts and disprove some myths, but overall capture the emotional essence of what made their subject so important the world over. Vargas wanted to live a life that she found worth the struggle; revel in her mistakes and find the beauty in death, always pursuing her life on the stage to the very last instant. Despite a few hiccups, Chavela is an alluring and passionate film that is well worth the investment.
Chavela (2017) Directed by Catherine Gund, Daresha Kyi. Starring Chavela Vargas, Pedro Almodóvar, Elena Benarroch, Miguel Bosé.
★★★★ / ☆☆☆☆☆