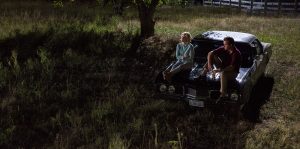 Just as Chesley Sullenberger and Tammie Jo Shults will always be known for how they landed jetliners despite engine failures, the late Sen. Edward "Ted" Kennedy will never be able to escape an accident that happened while he was behind the wheel in 1969.
Sullenberger and Shults handled terrifying situations with poise and sound judgment. The senator would forever be known for leaving a "blonde in a pond" after he ran his car off a bridge.
Like the senator, I've had an accident or two behind the wheel of a car, but what makes the incident depicted in the new film Chappaquiddick worthy reexamination 50 years later is not his weaknesses as a motorist but how he conducted himself after the car fell into the drink.
Thanks to an intriguingly nuanced performance from Australian actor Jason Clarke, Chappaquiddick does more than simply rehash why Kennedy was never able to leave the incident behind. Clarke presents a Kennedy who is both appalling and pathetic. Because of his last name, there are still people out there who have wondered if a curse kept him away from the White House.
"…not his weaknesses as a motorist but how he conducted himself after…"
As he admits during an interview that opens the film, living up to the legacy of his brothers is daunting. Jack and Bobby managed to keep the world out of nuclear war during the Cuban Missile Crisis. Compounding some obviously feelings of inadequacy is the fact that they've been murdered and the oldest Kennedy sibling Joe Jr. died in action during World War II.
Although his brothers had flaws as well (the standoff over missiles might not have happened if Jack hadn't greenlit the ill-fated Bay of Pigs invasion), the Ted Kennedy depicted in Chappaquiddick is a man eager to make his own mark on the world but incapable of handling mundane tasks like hotel arrangements without help from underlings or friends.
His cousin Joe Gargan (Ed Helms) has the unenviable task to catering to Kennedy's whims and of also preventing him from making decisions away from the Capitol that could upset voters. The Senator becomes irate when his wishes are met but frequently ignores Gargan when he offers him prescient warnings.
Any movie focusing on the night Kennedy shouldn't have been behind the wheel is guaranteed to make a viewer justly dislike him. Thankfully, screenwriters Taylor Allen and Andrew Logan set up a sufficient number of moments when Kennedy flirts with doing the right thing. His first words after emerging from the water might be a lament that he'll never become president, but every now and then he senses that he should be doing something other than fulfilling the wishes of his power-hungry father Joe (Bruce Dern).
Clarke is buried under a lot of makeup and switches his own Australian drawl for a convincing imitation of the distinctive Kennedy version of a Chusie accent. Somehow Clarke still plays Kennedy with enough shading to prevent him from becoming something out of an SNL sketch.
"…set up a sufficient number of moments when Kennedy flirts with doing the right thing."
The supporting cast is uniformly strong. Casting comic actors like Helms and Jim Gaffigan (as an attorney named Markham ) adds an intriguing resonance. It's tempting to view them as sidekicks, but their characters often have a more acute understanding of what's happening in the story than the protagonist does. For those who don't remember the incident or even the senator itself, the casting helps slow down the realization of how bad the situation became.
Dern isn't in Chappaquiddick for long, but he leaves an indelible impression. By 1969, Joe was recovering from a stroke and could barely speak or move. Nonetheless, Dern can simply stare into a camera and make a viewer feel bullied and intimidated.
Chappaquiddick falls short in that we only get a fleeting portrait of Mary Jo Kopechne, the woman who died in the accident. Director John Curran thankfully does nothing to shortchange how awful her death was and how both them might have emerged from the incident alive if the Senator hadn't dithered as she struggled for air. Curiously, despite solid work from Kate Mara, we never learn much about her, so it's almost as if she's less important than the tainted politician's reputation.
Because Kennedy's life after the accident is public knowledge, Chappaquiddick would have been even more powerful had it taken viewers into the life that was lost in the bottom of the lake.
Chappaquiddick (2017) Directed by John Curran. Written by Taylor Allen and Andrew Logan. Starring Jason Clarke, Ed Helms, Jim Gaffigan, Kate Mara and Clancy Brown.
7 out of 10