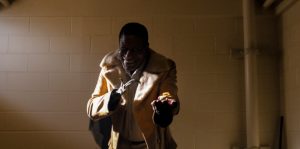 Having been barely a teenager when the original Candyman premiered in 1992, even I knew it would be a groundbreaking film.
Horror, specifically the slasher genre, was usually very "White-centric," with maybe one Black guy or girl who would get killed in the beginning. We were given iconic villains like Freddy Kruger, Jason Voorhees, and Michael Myers — who, till this day, are still the "holy trinity" of the genre. So when the trailer for Candyman first dropped, we (Black folks) knew we were in for a changing of the guard. Never before in horror history had there been a "Black slasher" (at least not in the mainstream). Black people, for the first time, we're able to put our stamp on horror.
For those of you who never saw the original starring Tony Todd and Virginia Madsen, the story follows Helen Lyle, a skeptical graduate student who decides to investigate an urban legend in the housing projects Cabrini-Green on the north side of Chicago. The tale of Candyman was thought to be a myth created by criminals to keep the citizens of the community afraid.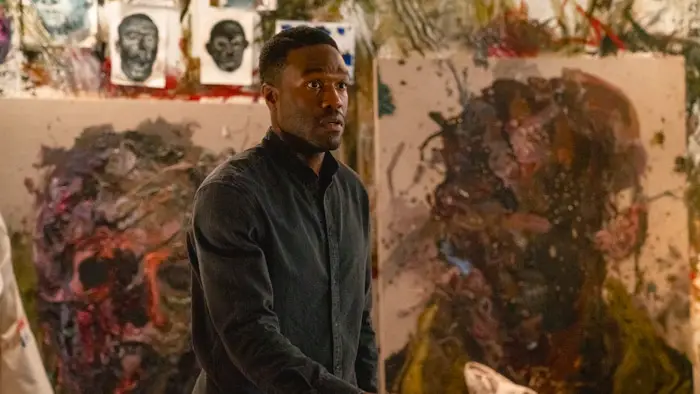 "…Anthony begins a new project of disturbing paintings all involving Candyman."
The lore establishes Candyman as a slave who made the mistake of falling in love with a White woman, and when the romance was found out, he was brutally tortured by having honey poured on his body then being attacked by a swarm of bees. The attackers then proceeded to cut off his right arm and drove a hook into the stump. Finally, after they were tired of torturing him, they set him on fire. Years later, the urban legend began to travel: "if you say Candyman five times in the mirror, he will appear and kill you!"
I won't go further into the original movie because that's not what this article is about. And there were a few failed sequels that I'd rather n0t mention. But at least now you have a background for the 2021 sequel/reboot (?).
In 2020, Jordan Peele announced that he'd be involved in the retelling of Candyman. Naturally, everyone assumed he would be directing, but instead, newcomer Nia DaCosta would be taking the helm, while Peele would stay on as a co-writer/producer. DaCosta's body of work is pretty unknown to most people, including those in the industry. Still, with a Hollywood heavyweight like Jordan Peele backing her, it reassured many of the vocal skeptics about the direction planned for the franchise. After several delays due to the "Covid apocalypse," the new Candyman finally hit theaters.
The story takes place 30 years after the first film, and Cabrini-Green is now a thriving, very gentrified, up-and-coming artist community. Painter Anthony McKoy (Yahya Abdul-Mateen II) and his supportive, bread-winning girlfriend, Brianna Cartwright (Teyonah Parris), have recently moved into a new condo there. Anthony, who is struggling for inspiration, befriends a mysterious local laundromat owner who tells him the urban legend of Candyman. Becoming obsessed with the story, Anthony begins a new project of disturbing paintings all involving Candyman. Unfortunately, while promoting his work, he also promotes the urban legend. Call Candyman's name five times in a mirror to summon his wrathful spirit.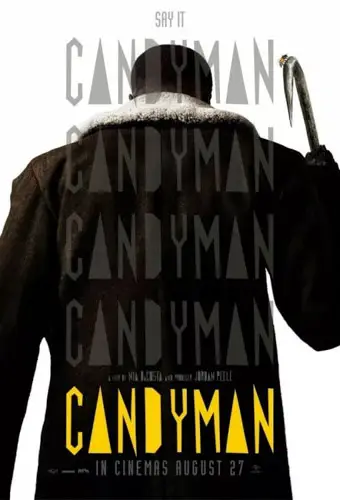 "…feels more preachy and woke than scary..."