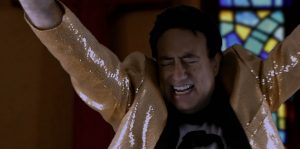 Conflicted is the best way to describe how I feel about Richard Rossi's Canaan Land. Rossi stars as the con-man psychic and shyster preacher Brother Billy with the film serving as an expose, of sorts, into the greedy and often fraudulent world of Televangelism. Canaan Land is about as DIY filmmaking as one could get and boasts an impressive PR campaign by Rossi. It is shot in a documentary style using a large assortment of "source material," including a BTS camera crew, hidden cameras, security cameras, news footage, talking-head testimonies, cellphone vlogs, and FaceTime calls. I could keep going.
The story follows Brother Billy hustling as a Hollywood psychic who decides to get back into the Televangelism game. He soon latches onto legitimate TV preacher, Sister Sara Sunday (Rebecca Holden). He forms a partnership with her to expand her ministry and extract money from her followers along the way.
Since it's presented in documentary style, Brother Billy explains (or the camera captures) the methods he uses to "psychically" obtain information about his client. He also explains his performance techniques to elicit "amens" at the right time and release those all-important dopamines. For an extra boost of credibility, Brother Billy brings in a few celebrity cameos in Cindy Williams, Sally Kirkland, Louis Gossett Jr, and a distant Lynda Carter—as he attends her Hollywood Star ceremony and she appears in the background.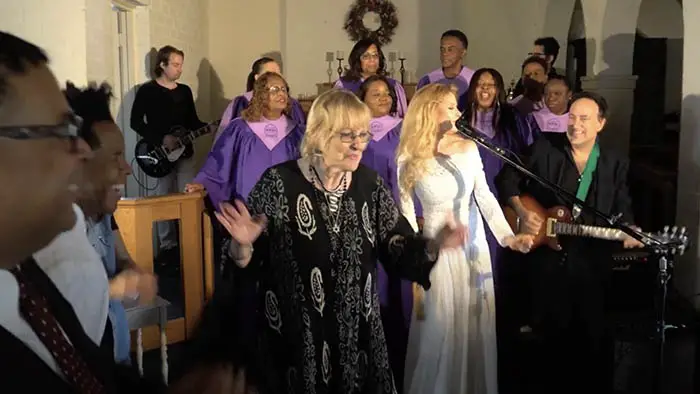 "…to expand her ministry and extract money from her followers along the way."
I have a lot of feelings about Canaan Land. I will say the quality of the production has much to be desired. It's a low budget DIY movie, and it's noticeable right from the start. The edits move at a blistering pace, and many of the scenes feel like casual conversations cut together. It all comes off as a little ADD. Most of the dialogue feels improvised. The first third is this messy, which made it challenging to find the story. This is a death blow, especially for an almost two-hour film. That first third could have been cut down significantly and told as a straight narrative without the documentary gimmick.
Thankfully, the real story between Brother Billy and Sister Sara eventually kicks in. I do like how Rossi exposes the techniques of phony evangelists and faith healers, and the story ultimately goes down the faith-based route toward its ending.
It is the ending that stands out the most. I've had my experiences (still do) with the phony nature and, worse, the business of religion. Bossi seems fed up with the current state of religion and urges a return to true faith, which describes my current relationship with the church. I appreciated Bossi's take on faith and religion, and that's when my feelings about Canaan Land changed a bit. Unfortunately, it happens at the 100-minute mark, and the resolution is a series of "here's what I learned" moments.
Let's face it. Canaan Land is a hard watch, and you have to be patient to find its interesting story moments. Bossi is a filmmaker more in the Corman camp piecing his narrative together with a camera and employs anyone and everyone who wants to be in it, whether they could act or not. I would not say Canaan Land is so bad it's good, but I will say, I was utterly fascinated about how it was made. As much as he lampoons the Brother Billy-archetype, I got the sense that Bossi made his film in the same way Brother Billy built his church. This is one of those movies I want you to see and then talk about afterward.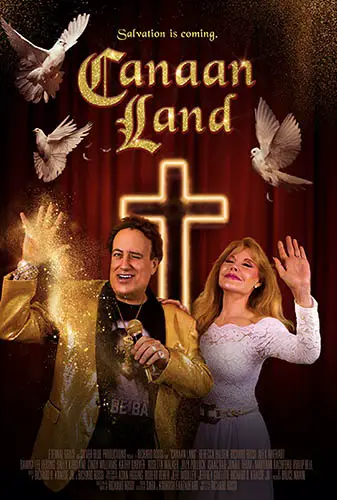 "…seems fed up with the current state of religion and urges a return to true faith..."