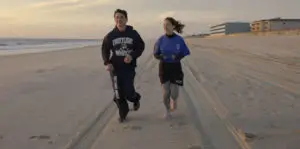 In any underdog story, the protagonist confronts obstacles, and through steadfastness and resilience, they conquer whatever's vexing them. By the end, they come out of the experience stronger. Director Raymond Wallace mines this familiar territory in his family-friendly drama, Call Sign Romeo, a gratifying and harmless tale of determination and teamwork.
Chris Torres (Chris Ana) is a high school senior who aspires to follow in his father's footsteps and become a Navy fighter pilot. But first, he must get through senior year and convince the U.S. Naval Academy admissions office that he's a worthy candidate. Chris figures one way to prove his worthiness is by winning the wrestling state championship. At the same time, Chris is balancing a relationship with Lisa (Rebbekkah Eller), who plans on attending West Point.
Chris is first seen working out in his room. Medals and Navy memorabilia are everywhere, indicating that he's training to be in the military. No exposition is needed to understand that Chris is tenacious. But, while Chris is a smart teen determined to join the Navy and honor his father in the process, he isn't without his faults. He isn't really a team player, so the teen isn't thrilled when Coach Kelvin (John Wilson) promotes him to team captain. But Chris has no choice; he has to learn how to be a good leader.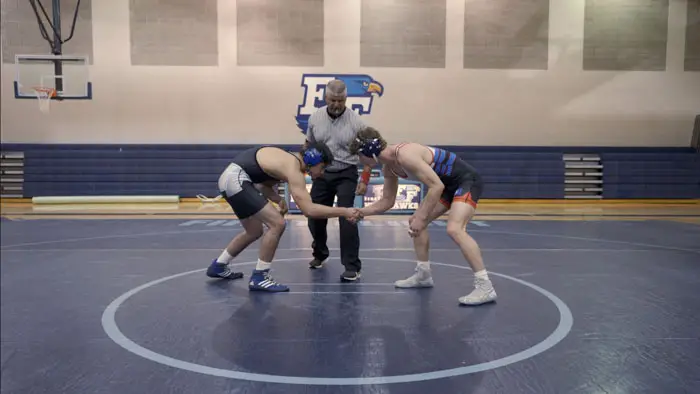 "…a high school senior who aspires to follow in his father's footsteps and become a Navy fighter pilot."
Throughout Call Sign Romeo, Ana carries himself assuredly, enlivening how the character is undeterred by setbacks and fear but whose boastful attitude repeatedly clouds his judgment. Equal parts coolheaded and clumsy, the actor plays an eager teenager exceptionally well. It helps that Wallace, with a script by Sam Cortez and Stuart Parks II, develops the lead thoughtfully. They know how and when to have Chris react harshly and vainly without neglecting the character's capacity to learn and evolve emotionally. Chris goes on to recognize the importance of teamwork with support from his mother, teammates, and coach. The film is schmaltzy and calculated in its attempts to warm your heart, but it does so compassionately and with good intentions.
But some serious-minded plot threads do get condensed. For instance, for most of the movie, Chris and a wrestling teammate (Milosz Gargol) are at each other's throats. Their resentments toward each other are somewhat stilted and unexplored, especially one confrontation where the teammates cite socioeconomic reasons. The supporting actors aren't given much material to expand on their characters. Inspiring dialogue and dynamic guitar riffs are given priority, and that's fine for a film dedicated to maintaining a highly uplifting tone tailored to most, if not all, ages.
Shot on location in Outer Banks, North Carolina, Wallace lends numerous shots of the stunning shorelines, seaside villages, and historic lighthouses. Furthermore, the filmmaker knows how to convey the main character's hankering to fly with nicely staged shots of Chris as he disregards everything around him and admires the Navy jets flying in the distance. We were all in his shoes at one point, as we all had a dream. Some of us may have achieved that dream, and perhaps others are still pursuing it. Call Sign Romeo nudges you to remember that any dream is possible, and we have nothing to lose by being optimistic and kind. All in all, this is a diverting watch for the entire family.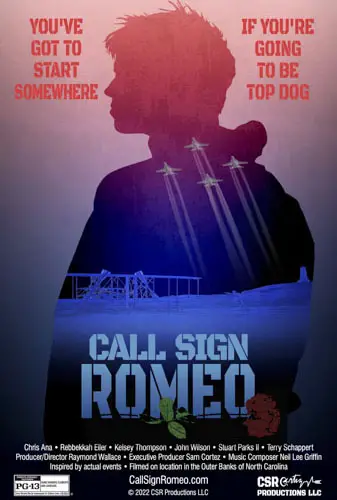 "…goes on to recognize the importance of teamwork..."