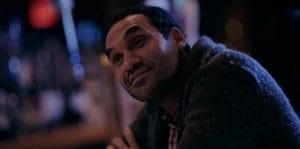 Bruce (Eden Marryshow) is a self-professed writer, director, artist, and playboy with an ego as equally big as his dreams. He's not great at relationships of any kind and gets through life with his empty words and swagger. After breaking up with his girlfriend, his roommate informing him that he is moving out to raise a family, and getting cut off by his parents, Bruce needs to find a way to pay his bills and remain living the careless lifestyle he enjoys. Bruce comes up with a "brilliant" idea of creating an ad for a hot female roommate that will pay most of his rent. Things become tricky when Bruce falls for one of the applicants.
Bruce has struggles just as any artist does. An artist that loves what they do, but can't figure out how to pay the bills doing what he loves. But there's something different about Bruce, he doesn't really do much when it comes to making art. For now, he is a dog walker. And literally, just A dog walker, walking ONE dog. Bruce's family tells him time and time again that he has to stop talking and do something instead.
"…creating an ad for a hot female roommate that will pay most of his rent."
Without having much of a job, Bruce can barely make rent, if even at all. Once his roommate Greg (Jason Tottenham) finds out he is going to unexpectedly be a father, it's time for Bruce to find a new roommate. Once Bruce puts out an ad specifically for a "hot female" roommate, this is where the film picks up and has some of its funniest moments.
During the interview process, Bruce comes across an interesting bunch of applicants. One applicant, Gwen (Jamie Dunn) catches his eye when she gets very seductive. The two hit it off (in more ways than one) and the interview turns physical. Bruce finds out that Gwen is a kinky woman that also gets easily attached, but he still promises her the room. Just after she leaves the interview, one more applicant comes in to interview, Keira (Mle Chester). This one not only catches his eyes but his heart too. Bruce then finds himself in a big dilemma when he also promises the room to Keira. Bruce ultimately decides to give the room to Keira and the two begin to date and Bruce begins to change his ways. But being that Bruce is still Bruce, it doesn't last, of course.
Bruce!!! (you can't forget the exclamations) is what I would describe as a lukewarm film. It has its moments where it picks up and is funny, but just when it begins to feel like it's getting hot, it begins to get cold and drags. This gets repeated throughout a film that had a lot of potential – more on this later in the review. Regardless, it's still a film that gives plenty of laughs.
"…when it begins to feel like it's getting hot, it begins to get cold and drags."
The film has a very diverse cast which is always a great thing to see. It seems like just about everyone is represented in this film including the LGBTQ. My favorite character in the film was Gwen, which I definitely thought would have and should have had a bigger role, especially the way she was introduced in the film. I think her situation with Bruce would have made for more laughs and awkward moments.
When I mentioned earlier that the film was lukewarm, I felt that the laughs would come in chunks and then not at all for some time. I'm not one to think that a comedy needs to be non-stop laughter because when films try to do that, they tend to insult the audience's intelligence. I feel that the laughs could have been spread out a bit more and not all at once, which would make the film not feel as if it was dragging. Bruce!!! is one hour and forty-three minutes but feels more like two hours or over. It's the case where less is more.
Bruce!!!! (2019) Directed by Eden Marryshow. Written by Eden Marryshow, Jesse Wakeman. Starring Eden Marryshow, Mle Chester, Mia Dominy, Sasha Dominy, Jason Tottenham, Gene Pope, Jean Goto, Ysmael Reyes, Cesa Pledger, Brenda Thomas, Jamie Dunn.
6.5 out of 10