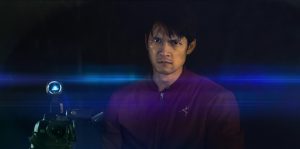 SXSW FILM FESTIVAL 2021 REVIEW! There's a style of noir that's been popping up lately in the indie rotation. It's light on tough-guy talk and femme fatales but heavy on amateur detectives and disorienting mysteries. Think of the recent Under the Silver Lake, Disappearance at Clifton Hill, or the memorable Long Day's Journey Into Night. Broadcast Signal Intrusion is another foray into — let's call it acid noir.
The year is 1999. James (Harry Shum Jr.) is an antisocial A/V apartment-dweller who squeaks out a living by repairing cameras, TVs, and other consumer electronics. In his spare time, he pops in some old VHS tapes and stumbles across something unsettling: a sitcom from the early '90s. Wait, it gets worse. Cut into the middle of the sitcom is footage of someone in an expressionless mask speaking modulated gibberish and vomiting black gunk. As James grinds out an ordinary life, all it takes is this small taste of the unordinary to bring out his inner Alex Jones, cry conspiracy, and let slip the bloodhounds of war.
"…he pops in some old VHS tapes and stumbles across something unsettling…"
What director Jacob Gentry gets mostly right is the tone. James' world is a melancholic and deterministic series of false choices. As the breadcrumbs lead him to a series of unsavory character actors, none quite as scene-stealing as a Sydney Greenstreet or a Sterling Hayden, the soundtrack is laden with lonesome horns and eerie piano flourishes. It's all very on-the-nose but in a knowing way. For the first 30 minutes or so, the tone and the pieces in place give the movie every opportunity to be a bad dream that sticks to the side of your brain like a sock in a washing machine.
Where Broadcast Signal Intrusion slips up is with its increasing attention to the plot. As with most mysteries or conspiracies, the more you uncover, the less interesting they get. Nothing is scarier or more shocking than what your imagination can conceive. Screenwriters Tim Woodall and Phil Drinkwater tie the narrative to a needless backstory for James, which exists, I guess, in an attempt to give him depth and make the whole story about him. But he doesn't need depth, and he doesn't deserve the story. I don't remember a single thing about the main characters in Chinatown, The Long Goodbye, or The Conformist. I only remember how those titles made me feel — the overwhelming cynicism and the individual under the shadow of something much larger.
As Broadcast Signal Intrusion comes to a close and the motivations of its characters become clear, you're left in the mindset of "that's it?" It wouldn't feel like so much of a whimper of an ending if the first impression hadn't been so attention-grabbing. Another late-game flub is a monologue that quickly overstays its welcome and possibly holds the record for the quickest I've zoned out after someone's opened their mouth. The overwritten bad guy monologue is like a guitar solo for screenwriters. If you can pull it off, great. If you can't, and most can't, stopping everything to take center stage isn't the best idea.
Broadcast Signal Intrusion screened at the 2021 SXSW Film Festival.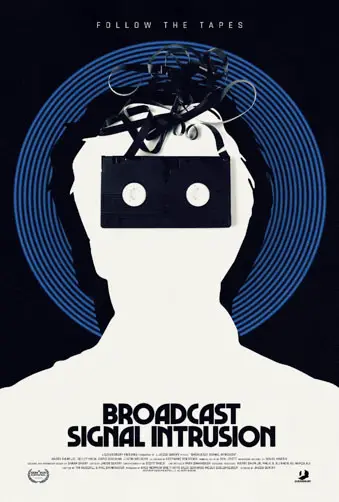 "…what director Jacob Gentry gets mostly right is the tone."