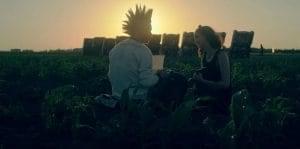 In 1997, an already volatile rivalry between the wealthy elite popular football crowd and the local punk scene in Amarillo, TX turned deadly during a parking lot brawl. One side, fed up with the constant bullying and harassment by the other, reached their breaking point and went on the attack despite being outnumbered. Tragically, a life was lost in the skirmish, leading to a court case that would clearly define the divide between the haves and the have-nots. Director Jameson Brooks brings that story to a wider audience with his powerful debut feature Bomb City.
Brian Deneke loves punk rock and guerilla art rides a skateboard around town and wears a mohawk and spiked leather. He also brings touring bands to Amarillo for local underground shows as part of a DIY collective living and working out of an old warehouse. His peers think highly of him, the bands respect him and younger kids look up to him. On the other side of the tracks, Cody Cates comes from an affluent family, plays high school football and drives around town in his dad's Cadillac. Being smaller and younger than most of the other players on his team, he struggles for respect but does what he can to fit in among the letterman jacket crowd. As representatives of their respective tribes, they each drive the narrative to its final breaking point.
"…rivalry between the elite popular football crowd and the local punk scene…turned deadly during a parking lot brawl."
Bomb City isn't a phenomenal effort for a first-time director, it's a phenomenal film, period. Brooks captures every single shot with stunning mastery, making this one of the most visually beautiful movies to ever hit celluloid. Lighting becomes a weapon wielded against the audience for maximum effect, particularly in a sequence depicting two opposing police encounters. When police raid the punks, the screen literally becomes claustrophobic and uncomfortable, while the tones turn softer and spacious when the same police break up a letterman party. Similarly, flawless camerawork juxtaposes a football game with a punk show, begging the question, "How different are they really?"
To be honest, there isn't a single misstep in the entire film. Every performance radiates authenticity, never sinking to the level of misconstrued stereotypes. If you know the small town punk scene, you know these kids. They're the buddies you cram into a car with to see some obscure band playing two hours away and the guys you stay up all night with drinking beer, playing records and debating the philosophy of punk. You'll also recognize the football clique of scared young men trying to outdo each other in their struggle to fit in with society's regulations. Every piece is flawless, right down to the soundtrack.
"Every piece is flawless, right down to the soundtrack…"
Those of us who live in cities so easily forget that this is a big country and a lot of it doesn't like individuality. While leather and spikes certainly create their own uniform, they also symbolically challenge the nature of anyone trying to live their life by societal rules. Believe it or not, these people become threatened and actually violent when anyone dares to do, act or think differently than what is considered "normal." Sadly, Bomb City is not an isolated incident, but a symptom of a much deeper disease involving school shootings, social media-driven suicide and heavy drug use. Hopefully, a few eyes will open and realize that the nature of our tribes is not so different beneath the respective uniforms.
Don't hold your breath.
Bomb City (2018) Directed by Jameson Brooks. Written by Jameson Brooks and Sheldon Chick. Starring Dave Davis, Luke Shelton, Eddie Hassell, Henry Knotts, Dominic Ryan Gabriel, Maemae Renfrow, Lorelei Linklater, Logan Huffman, and Glenn Morshower.
10 out of 10 stars