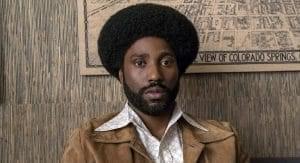 BlacKkKlansman, Spike Lee's second joint of the year and distinguished winner of the Palme D'Or, is a biographical comedy-drama whose story was considerably manipulated by the quartet of writers – Lee is included amongst them – to provide us with larger doses of dramatic weight and fun entertainment.
In the early 1970s, Ron Stallworth (John David Washington) was hired by the Colorado Springs Police Force, becoming the first African-American to ingress that department. Because of his stubbornness about doing something to help the oppressed black community fighting for civil rights, he is soon promoted from the records room guy to an undercover agent with a plan to infiltrate and denounce the racist brotherhood Ku Klux Klan. For that, he will have to use a lot of his improvisational skills along with the help of Flip Zimmerman (Adam Driver), a Jewish officer, equally fluent in English and Jive, who borrows the identity of the investigation's mastermind.  
"…an undercover agent with a plan to infiltrate and denounce the racist brotherhood Ku Klux Klan."
In the meantime, Stallworth falls for Patrice Dumas (Laura Harrier), the dutiful president of Colorado College Black Student Union and a strong voice in the Black Power movement. If he plays his game with the K.K.K. with relative comfort, relying on Zimmerman to do most of the 'dirty' job, then he couldn't feel so comfortable about concealing his true profession from Patrice, creating a minor investigation-relationship conflict. While he flirts with Patrice, Zimmerman meets all the white supremacists, starting with Walter Breachway (Ryan Eggold), the president of the Colorado Springs branch, and ending with the leader of the organization, David Duke (Topher Grace). However, the most fanatical and dangerous militant is Felix Kendrickson (Jasper Paakkonen) and his delirious wife, Connie (Ashlie Atkinson), whose dream of killing 'n*****s' is about to come true.
Lee vulgarizes the existence of the dreadful K.K.K. by infusing quasi-absurdist humor in several scenes. If the final message is powerful and elucidative about current dangers, then the whole story – based on Stallworth's 2014 memoir – is worth being told. The provocative attitude is expanded with references to D.W. Griffith's silent yet polemic drama film Birth of a Nation and the final footage containing no fewer polemic declarations from Donald Trump regarding the 2017 'Unite the Right' rally in Charlottesville, Virginia. Even though all these efforts are valid, the film could have been even more incisive with a few narrative adjustments and image filtration for sloppiness reduction. This is tough material Spike Lee is dealing with, and yet, he makes it an easy, pleasant watch.
A word of praise for the energetic performances by Washington and Driver and an awesome score by jazz trumpeter Terence Blanchard.
BlacKkKlansman (2018) Directed by Spike Lee. Written by Spike Lee, Charlie Wachtel, David Rabinowitz, and Kevin Willmott. Starring John David Washington, Adam Driver, Jasper Paakkonen, Topher Grace, Laura Harrier, Ashlie Atkinson.
7 out of 10 stars