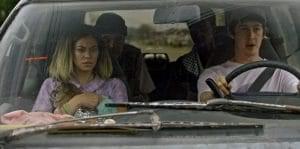 In Better Start Running, two co-workers Harley (Alex Sharp) and Stephanie (Analeigh Tipton), become the center of a murder investigation. The two begin to bond while being on the run from the FBI. The two are joined on their road trip by Harley's grumpy grandfather (Jeremy Irons) and a free-spirited stranger (Edi Gathegi) which make the trip even wilder.
First off, the story is unique. Harley has a crush on Stephanie, but they're both a bit awkward. Things get even more awkward when Harley walks into their boss's office one day as the boss is attempting to rape Stephanie. Harley stops it from happening, but as Harley and the boss are scuffling, Stephanie throws the boss out of a second story window onto the store floor. Harley covers up for Stephanie and takes this blame. This is what starts the two on a wild goose chase from the FBI.
"Stephanie throws the boss out of a second story window onto the store floor."
Each character in the film has a certain issue (or multiple issues) about them, which to most would classify them as a "misfit," but what it really does is adds something sweet to them as much as it adds something real to the character. Although all of the protagonist characters are likable, my favorite would have to be Jeremy Iron's character, Garrison.
Jeremy Irons is amazing as always. His character is a grumpy, old war veteran who has a big heart deep inside. His story is of the tearjerker kind. Even though he's had a rough life, his character provides a quite a bit of laughs. It's crazy seeing Jeremy Irons go from Alfred Pennyworth in the DC Universe to a role pretty much its opposite. It just shows the acting range of an already critically acclaimed actor and justifies his accolades.
"Jeremy Irons is amazing as always…his story is of the tearjerker kind…"
Another good thing about the film is the production value. There are many good looking shots with quite a bit of well-done action shots. Seeing as it is a film where the characters are always on the run, there is a lot of scenery to go along with it. Most of it takes place in rural areas, but it definitely made it seem like these characters are on the run throughout America.
Better Start Running is dark, funny and sweet. The film acts as a refreshing palate cleanser from everything else out there because it is unique and enjoyable, with many layers to it. It had likable multidimensional characters, and you can't really ask for much more than that. I definitely want to watch more projects not only from the actors involved but also from director Brett Simon and the writers Chad Faust and Annie Burgstede. For the writers both being actors, they definitely have more to them than just acting. They are very talented individuals that seem to work even better as a team.
Better Start Running (2018) Directed by Brett Simon. Written by Chad Faust and Annie Burgstede. Starring Alex Sharp, Analeigh Tipton, Jeremy Irons, Maria Bello, Edi Gathegi, Karan Soni.
9/10