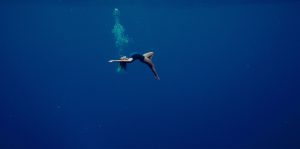 Surfing is truly a unique sport. "The ocean… There's really no other playing field like it," one of the interviewee's states in Aaron Lieber's documentary Bethany Hamilton: Unstoppable. "That's what drives these people. They want to push the boundaries of possibility." Surfer Bethany Hamilton's drive pushed her to get her left arm bitten off by a 14-foot tiger shark while surfing off the coast of Kauai in 2003 – yet the terrible incident didn't stop her from pursuing her dreams. Admirable, but as surface-deep as the surfboards it showcases, Lieber's third doc about the subject matter – after The Pursuit and Lakey Peterson: Zero to 100 – is an Inspirational Doc, through and through; a "Perseverance Conquers All" PSA under the guise of a film, chockfull of stirring pop tunes and motivational quotes worthy of hanging over your office desk. It's certainly not "unique."
Inspired by her surfer parents, Cheri and Tom (both prominently featured in the doc, along with brother Timmy), Bethany started riding the waves at an early age in Kauai, and her "natural ability" was uncanny. "I knew I was going to be a professional surfer," Bethany remembers gleefully. Then tragedy struck. "Within six days of losing my arm, I already had hopes to surf with one arm," she says. She began to adapt to her new lifestyle, her eyes on the wave. Her dad adjusted a special handle to her board – and soon enough, she "obliterated her competition." Next up: qualifications for the World Tour, "one of the toughest needles to thread," an international competition in a wide variety of waves.
"Even pregnancy proved no obstacle: Bethany surfed and lifted weights while pregnant and got right back into it seven weeks after giving birth."
In the meantime, the media pounced on Bethany. Along with a slew of magazine covers and TV specials, she appeared in Dolphin Tale 2 and had AnnaSophia Robb play her in Soul Surfer. Overwhelmed by the attention and deeply shaken by coming close but not qualifying for the World Tour, Bethany went through a period of self-doubt – until she met and promptly married hunky Adam in an underwater ceremony, soon after teaming up on a season of The Amazing Race. Eventually, the couple decided to refocus on Bethany's one true passion: surfing. Even pregnancy proved no obstacle: Bethany surfed and lifted weights while pregnant and got right back into it seven weeks after giving birth. It all leads to a World Championship in Fiji, and eventually, the present: Bethany surfing Jaws, "one of the most iconic waves of the world" and the one she's "always dreamed of surfing."
There's no denying Bethany herself is a powerhouse. When asked if she still wants to go professional, a young Bethany, confined to a hospital bed right after the horrific shark encounter, intones, "That's pretty much my dream." Setting impossibly high bars for herself, she pursues that dream with "teeth-clenched" determination, but also a healthy dose of humor. "Yeah, I remember beating all the boys. It's fun," she chuckles. Still, Lieber never truly gets under her skin. Next to her media persona and crazed passion for surfing, we know next to nothing about Bethany, and much less so about her husband or any other of the numerous talking heads (in addition to her family, Alana Blanchard, Kelly Slater, Coco Ho, Stephanie Gilmore, Carissa Moore, Sebastian Zietz, Shane Dorian and a host of other pro surfers and friends show up to express their admiration).
"…young Bethany being reassured in the hospital by a surfer who's also survived a shark attack resonates…"
While not exactly faith-based per se, Jesus is prominently credited in the doc as Bethany's savior. "God gave me this passion to serve," she explains. The Almighty seems to have also guided Lieber through some of the niftier scenes, which do appear intermittently amongst all the sugarcoated sentiment. A touching scene of young Bethany being reassured in the hospital by a surfer who's also survived a shark attack resonates, as does Bethany getting back on the board for the first time after her accident. Bethany's chomped surfboard is a sight to behold. Lieber's great at capturing awe-inspiring surf-footage; Unstoppable is at its best when it just showcases her gliding the waves, a tiny dot conquering a gargantuan beast.
Those not that interested in surfing may start to zone off at about the halfway point, due to the doc's resolute focus on the act of surfing itself and lack of psychological insight. A bit of depth comes through at the very end of the film, Bethany refusing to be categorized as "disabled" when nominated for a prestigious award. Her stance on the subject could have used more probing, but alas, Unstoppable treads shallow, still, shark-less waters. At almost 100 minutes, Lieber's ode to surfing and overcoming obstacles stretches itself thin. Like the wildest waves Bethany seeks, Unstoppable needed to be more unpredictable, dangerous and, well, gnarly, dude.
Bethany Hamilton: Unstoppable (2019) Directed by Aaron Lieber. Featuring Bethany Hamilton, Cheri Hamilton, Tom Hamilton, Noah Hamilton, Timmy Hamilton, Greg Long, Adam Dirks, Tobias Dirks, Alana Blanchard, Kelly Slater.
5 out of 10