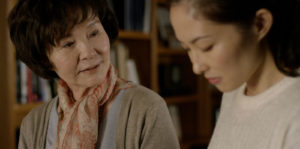 I have vivid memories of utter boredom at my Grandparents' home, sitting for hours watching Chinese soap operas…without subtitles. After hours upon hours of staring at these images, I became pretty adept at figuring out the story while never learning the language. So I have a great appreciation for Nani Li Yang's drama, Beneath the Banyan Tree. Yes, it's subtitled… thank you, Yang! On top of that, she tells a relatable story about being Asian in America.
Jia-Rong Woo (Ah-Lei Gua) is the matriarch of her family. A single mother in China, she raised her two children, Zhong-Jia (Jian Yu) and Ai-Jia (Kathy Wu), with an iron thumb, like a proud tiger mom. But, after years of living under the shadow of Jia-Rong's good son, Ai-Jia decides to move to Los Angeles and become a writer, against her mother's wishes.
Jump ahead ten years, Ai-Jia has not had much luck as a professional writer and resorts to leading Hollywood tours for Chinese tourists. On this day, Ai-Jia receives a devastating call from her mother: Zhong-Jia and his wife are in prison for fraud. Jia-Rong and Ai-Jia's niece and nephew, Zheng-Qi (Demi Ke) and Zheng-Yu (Jiayu Wang), must now come to America and live with Ai-Jia and her boyfriend Vance (Travis Goodman), who's white.
Family dysfunction knows no cultural boundaries, and the Woo's are about as dysfunctional as you can get. Beneath the Bayan Tree effectively opens the significant wounds of the Woo family. For mother Woo, her self-worth comes from the success of the boys/men in her life. As a result, she's cut to the core, and her son's imprisonment only amplifies Ai-Jia's failures and regretful life choices.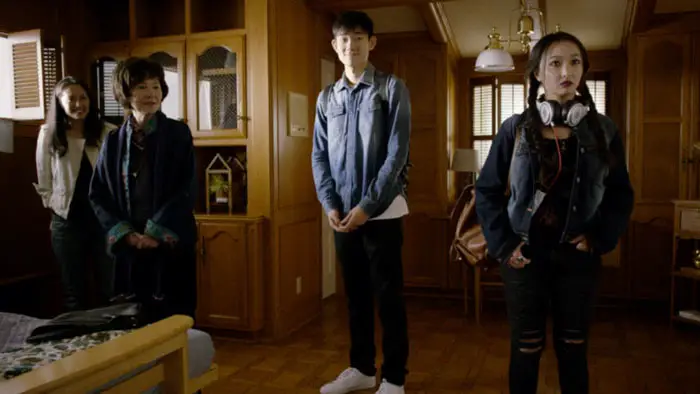 "…Ai-Jia decides to move to Los Angeles and become a writer, against her mother's wishes."
On the other hand, Ai-Jia has been hiding her life in Los Angeles from her mother, knowing that dating a white guy and not becoming a successful writer is an utter disappointment to Jia-Rong. As much as Ai-Jia hoped to hide from her mother for the rest of her life, she could never hide from her cloud of disapproval no matter where she lived.
Zheng-Qi has the same problem as Ai-Jia, only doubled. Zheng-Qi has to live under the shadow of her older brother, Zheng-Yu. Rebellion is her only defense. Always buried in her phone and cutting class, she disappoints both her grandmother and aunt. Thank the ancestors, Zheng-Yu is a good boy…but then again, what if he wasn't so "good."
I could relate a lot with Beneath the Banyan Tree. I have amazing parents, for the record, but I'd be lying if most of Nani Li Yang's story didn't hit close to home (it was never this stressful). The drama plays out like many made-for-TV and Hallmark movies I've seen growing up, but with an authentic Chinese cultural twist. Let's start with the obvious — mothers who take pride in the accomplishments of their sons. Now explore what happens when the son fails spectacularly, and mom has to face the other "aunties."
Ai-Jia has to deal with a lifetime of insignificance only to have her shortcomings thrown in her face when forced to take her brother's place as the new head of the family. Then there's Zheng-Qi and Zheng-Yu, who embrace Western values and may one day break away from the family entirely as Ai-Jia almost tried to do.
Though Beneath the Banyan Tree is specific to Chinese culture, its themes of family and family dysfunction cast a vast shadow of parents placing expectations too high for their children to reach. The story also takes place in Los Angeles and speaks to the story of the millions of immigrants hoping for a piece of that American dream.
For more information, visit the official website for Beneath the Banyan Tree.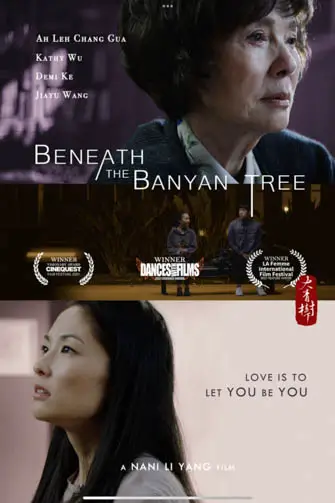 "…cast a vast shadow of parents placing expectations too high for their children to reach."