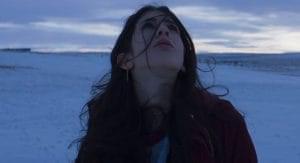 Once in a while, a short film comes along that showcases a truly original take on a well-worn genre. Low-key coming-of-age tales set in the American suburbia/badlands have been told countless times before – but writer/director Ashley Avis, along with her modest crew, present a new, tantalizingly odd take on your typical "granola indie" with the poetic Being and Nothingness.
The filmmaker's 30-minute pastiche is set in Casper, Wyoming – a stunning, frigid location, whose "vastness [is] suffocating." "My entire life, I just wanted something to happen to me," 16-year-old Lola (Sascha Nastasi) hints at things to come at the beginning of the film, as she stands on the precipice of a cliff, facing endless frozen fields. "Something that's beyond my control… Something terrifying and new and exciting." Moving away from her "control freak" father to her grandmother Ivy's (Cloris Leachman) ranch in remote Casper – along with her anxiety-stricken mother Holly (Betsy Brandt) – may just provide the outlet Lola needs to act upon her subliminal desires.
"'My entire life, I just wanted something to happen to me,' 16-year-old Lola hints at things to come at the beginning of the film…"
Grandma Ivy doesn't f**k around. She curses, speaks her mind, and is proud as hell of her farm. Lola instantly takes a liking to her – as well as to Cody (Connor Weil), grandma's helping hand, who lives in a "shithole" trailer out back. Lola doesn't care that he has a girlfriend. "He's sleeping only 200 yards away from me right now," she writes in her diary. "Maybe he could be the one to happen to me." A tragedy brings Lola and Cody closer together: they share their backgrounds and ambitions before scattering ashes over the "wild blue"; they consume drugs and… well, let's just say that things take a darker turn. The film ends, like it began, with a precipice.
Peter Gregson's minimalist piano score is so benevolent, and Lola's narration so naïve and juvenile (yet expressive: "My dad created such intense fear in my poor mother that she extended it to me"), the film gently lures you into its world, vividly captured by cinematographer Kai Krause, whose shots are as crisp as Casper's snow. None of those elements prepare you for the ambiguous, dismal denouement, which transforms the film into a melancholy ode to one's unrealized passions/traumatic upbringing manifesting as psychopathic obsession. Don't expect anything wildly "terrifying and new and exciting" – but the nonchalant/abrupt/cryptic way Avis ends things will surely stick with you.
"…a melancholy ode to one's unrealized passions manifesting as psychopathic obsession."
93-year-young legend Cloris Leachman has Hollywood projects on the horizon (she's appearing as the voice of Gran in next years The Croods 2) – and judging by Being and Nothingness, she's as vivacious as ever. "About fuckin' time I had a look at my granddaughter!" she says, reclining in her chair on the frigid porch. Appearing in only a few brief scenes, Leachman steals the show, her outspoken, hilarious Ivy proclaiming that her cattle's "leaner than salmon." Betsy Brandt leaves an impression as the God-tape-listening, given-up mother, Holly. Sascha Nastasi convincingly portrays your average angsty-teenager – one that's – not to beat a dead horse (of which there are many in the film – live ones, to be clear) – is on the edge of a precipice.
"It's not about what you do. It's about what and who happened to you," Lola concludes at the end of Being and Nothingness. Avis clearly wants you to draw your own conclusions. Her admirable feature may flirt with a somewhat-swoony sensibility ("My Cody," Lola narrates, as he hands her a lamb, "my perfect Cody") – but then it subverts that very notion, making me excited for what Avis has in store for us next.
Being and Nothingness (2019) Written and Directed by Ashley Avis. Starring Sascha Nastasi, Cloris Leachman, Betsy Brandt, Connor Weil, Sloane Avery. Being and Nothingness screened at the 2019 Dances With Films.
8 out of 10