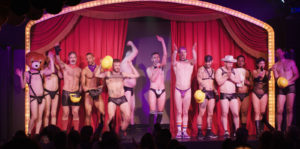 Joshua Guerci's Baloney is an enjoyable and heartwarming documentary about San Francisco's gay all-male revue of the same name. Baloney is a live show that dabbles in dance, theater, burlesque, and striptease. The filmmaker primarily follows life partners Michael Phillis and Rory Davis as they direct and perform shows that celebrate the gay and queer experience.
The lively doc opens with Phillis, the director, and co-founder of Baloney. He explains how he created Baloney with the intent to tell meaningful stories about the queer experience. For example, Phillis mentions how one show portrayed the sexual enlightenment of the everyman. With a good understanding of what it means to be a purposeful artist, he ensures that every performance contains elements of sexuality, truth, vulnerability, and humor. He and the other artists at Baloney do all this without ever veering toward objectification.
Phillis directs and co-founder Davis choreographs every performance. Together, they hope to create a show that will not only engage and stimulate an audience but depict the liberation of being out and expressive about one's sexual truth. The two are shown to have an affable relationship with the entire Baloney cast. The performers always feel comfortable enough to speak their minds which, in turn, makes it so they are more willing to bring their A-game.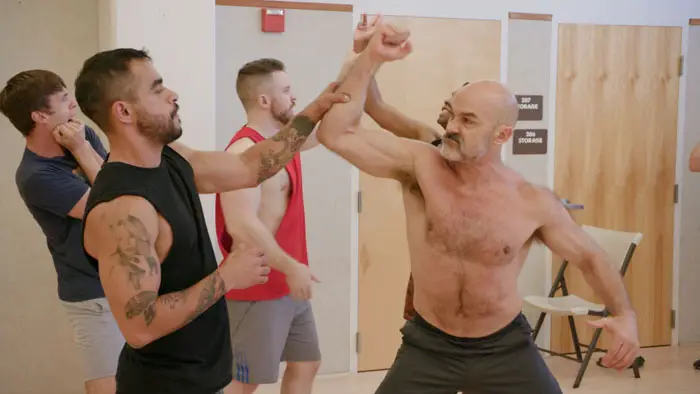 "…follows life partners Michael Phillis and Rory Davis as they direct and perform shows that celebrate the gay and queer experience."
While Phillis and Davis are the primary interviewees, Guerci reserves some time for every performer to share a story or two. Through the meshing of perspectives, the writer-director explores how the performers perceive relationships, coming out, masculinity, and the artistic drive to perform at all costs. However, their scenes are cut short. This is because Baloney only spans 70 minutes, and Phillis takes priority.
By documenting their rehearsals and creative process, the filmmaker nicely captures how much time and effort goes into making every production. Phillis wants everyone to have fun, but he also wants to put on a good show. I understand where he's coming from, as almost every artist wants to be taken seriously. Furthermore, it is exceedingly more rewarding when one's artistic vision is fulfilled.
Some scenes stand out for their technical singularity. There is a moment of cross-cutting between the rehearsal and the stage that is particularly memorable. Plus, the slick, whip-fast editing does a fine job blending perspectives and conveying the staggering amount of hard work the performers put into every performance.
Baloney could have made more use of the performers and their stimulating stories. Nonetheless, the movie has enough warmth and empowerment to inspire those struggling with their sexuality or are unsure of how (or when) to reach out to the LGBTQ community. This is a lighthearted, intimate, and sensitive documentary about embracing the queer experience and being true to yourself against all odds.
Baloney is now available on all VOD platforms.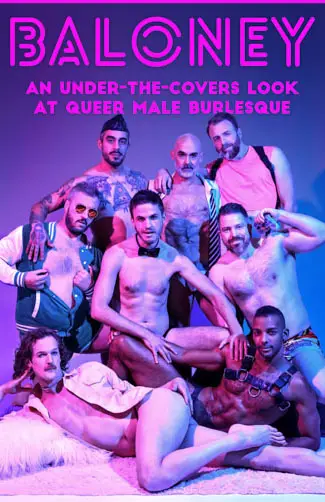 "…lighthearted, intimate, and sensitive..."