The balloon crash site is quickly discovered, and an investigation commences, led by Lt. Colonel Seidel (Thomas Kretschmann). A devout follower of the regime's laws, Seidel will stop at nothing to discover the traitors. "Who would we be without the border?" he asks. "It defines us. Anyone who violates it violates us." As he closes in, the Strelzyks travel to Berlin to attempt an elaborate escape plan via the U.S. embassy.
When that doesn't work out, they boldly decide to build another, bigger balloon in a fraction of the time it took them to make the first. With Günter and Petra's help, and Seidel's "army" on their tail, they race against the clock… until a certain child's big mouth threatens to collapse the entire thing. The final 20-minute sequence is expertly crafted, with palpable nail-biting tension.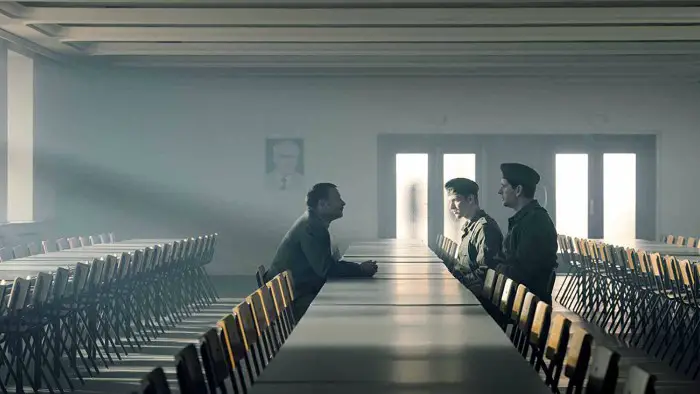 "…quite entertaining, anchored by solid performances and a contagiously well-meaning spirit."
I mentioned that the actual hot air balloon rides form a small portion of the film. Those parts, of course, happen to be the best ones, immersing us into the confinement of the basket, making us gasp at every failed attempt to ignite a flame. While the plot isn't the most complex, Herbig holds us rapt with paranoia – who's surveilling the Strelzyks? That sense of encroaching menace is especially evident in a vividly directed scene, involving the U.S. embassy surrounded by Stasi guards and a pack of cigarettes. The entire cast shines, but Kretschmann is the standout, exuding subliminal malice as the socialist Lieutenant Colonel, pure evil lurking beneath the calm.
The film makes an interesting point about the lack of solidarity during hard times among neighbors and community and reiterates the importance of friendship and loyalty. I wish there were more moments like the one where 8th graders get up and pledge their allegiance to socialism or the scene where citizens are given a blue card, which allows them a few beers at the bar, as well as purported freedom. Herbig merely touches upon those themes, sticking to his pretty basic plot. The movie is a heart-on-the-sleeve, old-fashioned action-adventure thriller. This Balloon may not exactly soar, but it'll give you a satisfyingly stirring ride.
"…heart-on-the-sleeve, old-fashioned action-adventure thriller..."