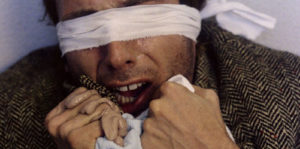 Writer/director Ivan Zulueta's Arrebato is finally getting a proper North American release on a gorgeous 4k restoration. Jose (Eusebio Poncela) is a horror movie director who has gone from snorting heroin to shooting it up. After being away working on a vampire film, Jose finds a mysterious package waiting for him at his apartment in Madrid. He also finds a passed-out Ana (Cecilia Roth), an actress and Jose's ex-lover who regularly uses drugs. Unable to wake Ana to throw her out, Jose shoots more heroin and opens the package. Inside are film reels, and tape recordings from Pedro (Will More), a young filmmaker Jose met while scouting out locations for a werewolf picture.
Through flashbacks, we see Jose being introduced to Pedro by his cousin Marta (Marta Fernandez Muro). Pedro is a disturbed young man with a weird doll with glowing eyes who plays with large amounts of Silly Putty. He shoots random footage of buildings and clouds, which he watches while snorting heroin and goes into convulsions. Marta says Pedro's obsession with abstract images can be classified as "Hallucinema." After meeting Pedro, Jose introduced Ana to heroin (while they were together). Jose took Ana to meet Pedro, and they shot her up and propped her in a chair in front of a Betty Boop doll for two hours.
Later, Pedro disappeared into the city, and his voice on the tapes is all gravelly and ruined by hard drug abuse. He speaks about a new level of Hallucinema, where Pedro films himself passed out, trying to catch moments of his drugged subconscious on film. Pedro points out the strange frames filled with the color red that crop up more and more in the footage. Jose becomes obsessed with the package's contents and starts to look into what has happened to his friend.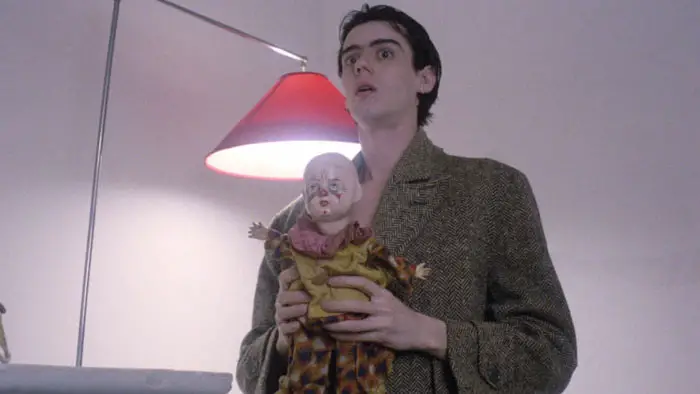 "…Jose finds a mysterious package waiting for him at his apartment…"
Arrebato is purely an art film that, despite using horror elements, presumably holds little interest to genre fans. But for me, I can't believe I have never seen this before, as it is precisely the kind of weird European fare I love to consume. Zulueta's rarely seen 1979 cult masterpiece was part of a wave of art-heavy Dracula flicks that came out in the 1970s and 80s, including Ganja and Hess, Martin, Fascination, and The Hunger. These movies sought to bring vampirism into the modern age, with updated rules, including the ability to exist in daylight.
They usually used vampires as symbols of addiction, linking blood addicts to drug addicts. Arrebato goes further than that by using addiction as a symbol of vampirism. By consistently referencing bloodsuckers ("I hear they are walking around in daylight these days.") and using a synthesizer for the score, the heroin addicts come across as monsters devouring themselves with their desires.
The 4k restoration is amazing. The image clarity and lighting are soo superb that it is a wonder to behold. There is even this moment in the beginning when Jose enters the apartment, and everything is bathed in candy colors a la late Fassbinder or early Bava. Then Jose pulls off all the scarves covering the lamps in a beautiful montage, and everything switches to the stark white lighting Argento would later use in Tenebre.
Arrebato is also an excellent showcase for Will More, who embodies everything piping hot in the new wave circa 1979. At one moment, he looks like someone from Echo and the Bunnymen. However, once his hair is slicked back, he is pure Dead Boys. More also has several nude scenes where you get to see a door knocker on him the size of a shoebox. We are also treated to a special uncredited guest appearance by famous Spanish director Pedro Almodovar, as he dubs in the voice of Pedro's friend Gloria, played onscreen by actress Helena Fernan-Gomez. It's another unusual aspect of this cult lost treasure that I can't stop watching over and over again.