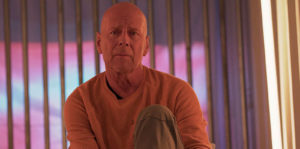 Bruce Willis is the hunted prey in writer-director Edward Drake's action-thriller, Apex. Willis plays disgraced ex-cop Thomas Malone. He's languishing away in solitary confinement in an ultra-maximum security prison for murder due to a burglary gone wrong. Meanwhile, out in the "real" world, there exists a deserted island where the wealthy hunt criminals as "game."
Run by the suspect corporation, Apex, the target as of late has been weak, and its customers demand a challenge. After extensive research, the Apex Corporation concludes that the only man who can provide any actual excitement to the hunters is Thomas Malone. Yes, he may be old, but as a cop, he's been through the literal psychological and physical wringer — kicked off the force for a bad temper and the whole murder thing. What makes Malone the perfect prey is how he's escaped death and severe injury time after time. Apex's holographic ringmaster West (Alexia Fast) states, "the universe just can't seem to kill him."
The game is simple. Malone is released into the reserve, and if he can survive until evening without being killed, he is a free man. He can also end the game early if he can take out all the hunters, who are Lyle (Lochlyn Munro), Carrion (Corey Large), Jeza (Megan Peta Hill), Ecka (Trevor Gretsky), and the psychotic apex hunter Rainsford (Neal McDonough). The odds are intentionally stacked against Malone. Each hunter has access to top-of-the-line weapons and vehicles, and thanks to teleporter technology, they can purchase upgrades and ammo on demand. As the hunt begins, Rainsford suggests that they all work together to kill the aged Malone. But instead, the hunters all decide to go it alone. Soon, their pride, ambition, lack of trust, and greed take over, and the hunters start turning against one another.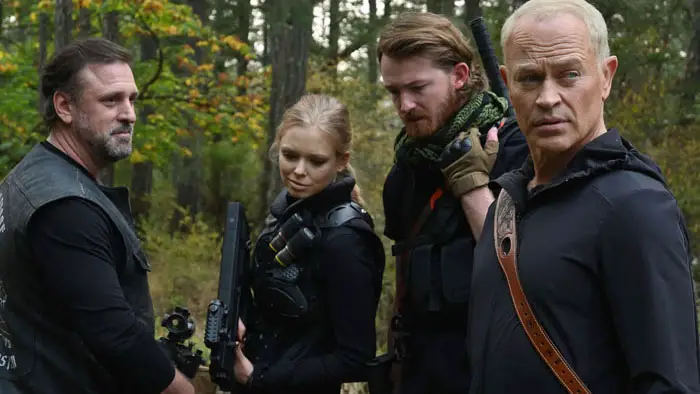 "…there exists a deserted island where the wealthy hunt criminals as 'game'…"
Like Drake's sci-fi thriller Cosmic Sin, Apex is driven by its two lead stars, Willis and McDonough. As Malone, Willis plays the sympathetic loner fighting to be with his estranged grandchildren one day. Much of his screentime is spent looking off into the distance watching the hunters take each other down. But not to fear, as Willis gets his big action scene in the third act. He also has a few moments of levity, which is refreshing.
Getting great a cast has its advantages beyond mere ticket sales. Veteran actor McDonough is nothing but intimidating every moment he's on-screen as the calm, collected, psychotic, and sadistic killer. His trophy room is a sight you'll long to forget.
What I appreciate most about Drake and co-writer Corey Large's story is that as outlandish as a hunter's island is, Apex has the right level of seriousness that keeps it from becoming camp and crazy enough to keep it from becoming too serious for its own good. Drake masterfully sets the stage for each hunter's final fate and keeps the action flowing. Thankfully, the filmmaker has a firm handle on making low-budget action feel big, which begs us to imagine what he could do with a lot more money.
We all now know the story behind Willis' retirement. Like the musicals of old, there is a bit of "dancing" around the Die Hard star, but he still turns in one helluva performance in Apex with a punch and a fitting indie offering in the Willis cannon.
Apex is available on most Video-On-Demand platforms, including Amazon Prime Video.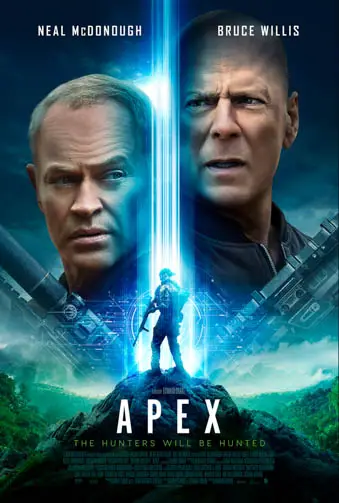 "…the right level of seriousness that keeps it from becoming camp and crazy enough to keep it from becoming too serious..."