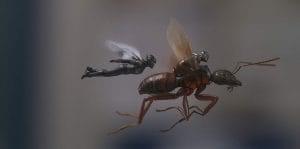 I was a huge Marvel Comics kid back in the 80's. Although I was primarily an X-Men fan, I read Avengers too. Yellow Jacket was my favorite Avenger until I found out he wasn't Asian. I'll admit, this pre-adolescent had a little comic-book crush on Janet Van Dyne…and Jean Grey (shout-out to John Byrne). Ant-Man and the Wasp is somewhat nostalgic for his old man looking back at soap-opera-like marriage between Hank and Janet. Well, that felt good. I'm all warm and fuzzy inside.
Ant-Man and the Wasp picks up roughly two years after Captain America: Civil War (Pre-Avengers: Infinity War). Scott Lang (Paul Rudd) is three days away from finishing the house arrest portion of his plea deal for helping Captain America escape and using unauthorized tech. Scott's actions not only landed him in jail but also forced Hank Pym (Michael Douglas) and Hope Van Dyne (Evangeline Lilly) into hiding.
Scott's personal life is complicated. Keeping tabs on him is F.B.I. agent Jimmy Woo (Randall Park) ensuring that Scott: never leaves in his home, never dons the Ant-Man suit, and never contacts Hank and Hope. So far, so good. Scott also partnered with Luis (Michael Peña), T.I. (T.I.), and Kurt (David Dastmalchian) in creating a startup security consulting company, X-CON. And Scott has also regained visitation rights with his daughter, Cassie (Abby Ryder Fortson), as well as earned the trust of Maggie (Judy Greer) and Paxton (Bobby Cannavale).
Meanwhile, knowing that Scott was able to go sub-atomic and return in the first film, makes Hank believe there's a chance to rescue his wife, Janet Van Dyne (maybe played by Michelle Pfeiffer) from the quantum realm. With Hope's help, Hank develops a quantum tunnel (or whatever it's called) built from illegal tech she bought from tech fence/restauranteur Sonny Burch (Walter Goggins).
"…knowing that Scott was able to go sub-atomic…makes Hank believe there's a chance to rescue his wife, Janet…"
While the initial test of the quantum tunnel failed, it did temporarily open a quantum link (or whatever it's called) between Scott and Janet. So, our heroes set out to: get the final piece of tech from Sonny, sneak Scott out of house arrest, figure out how to locate Janet, mend bridges with Hank's former colleague Bill Foster (Laurence Fishburne), evade Sonny's gang who wants Hank's tech Hank, finish a sales presentation for X-CON, and defeat the film's villain Ghost (Hannah John-Kamen) in time to rescue Janet from the quantum realm or be lost forever.
Directing once again, Peyton Reed firmly establishes the Ant-Man franchise as the funniest films of the MCU (squeaking by Guardians of the Galaxy). While much of the humor in Guardians is based on far-out wacky aliens, Ant-Man's humor is much more grounded and relatable in human relationships, situations, and character development. The humor is spread nicely throughout the film and contrasts masterfully against the seriousness of Hank and Hope.
Like Deadpool 2, Ant-Man and the Wasp is an almost perfect sequel bringing back everything awesome from the first film. Scott as the loveable underdog trying to do the right thing knowing it might land him in jail. Cassie and Scott's relationship just rip at those heartstrings throughout the entire film. Cute, bordering on sappy. We also revisit the rocky relationship of Scott with Hope (will they…won't they?) and get a glimpse into why everyone hates Hank. Michael Peña gets more screen time as Luis, that comes with a hilarious call back to Luis' enthusiastic storytelling style.
"…establishes the franchise as the funniest of the MCU (squeaking by Guardians)…"
Good sequels also improve on the first. Let's start with Randall Park as Agent Jimmy Woo. He represents a new source of laughs and is the much-needed Asian in the diversity mix missing in the first. Scott's powers in Ant-Man was shrinking and talking to ants. Here we add his growth powers. Along with the hand-to-hand combat of the first, we get vehicle chases. And then there's Hope who kicks a*s with her shrinking powers. Many of the cool tricks in the first film are effectively expanded in this sequel.
I said before Ant-Man and the Wasp is an almost perfect sequel. Without spoiling anything, the film's villain, Ghost, feels more like a complication to the team than an actual villain. Also again, without spoiling anything, the final fate of Ghost felt like lazy writing and way too convenient. Once you see it, you'll know exactly what I'm talking about.
Some final thoughts. Ant-Man and the Wasp is a hilariously, fun action-flick that takes the edge off the tragic ending of Avengers: Infinity War. At the start of the third act, my kid leaned over and asked, "How much longer is this film?" The familiar indicator that she's bored. I said, "30 minutes." She replied "What? I don't want this movie to end!" And finally, the end credits? The entire audience lost their s**t.
Ant-Man and the Wasp (2018) Directed by Peyton Reed. Written by Chris McKenna, Erik Sommers, Paul Rudd, Andrew Barrer, Gabriel Ferrari. Starring Paul Rudd, Evangeline Lilly, Michael Douglas, Michelle Pfeiffer, Laurence Fishburne, Hannah John-Kamen, Michael Peña, T.I., David Dastmalchian, Judy Greer, Bobby Cannavale, Abby Ryder Fortson, Randall Park.
8 out of 10 stars