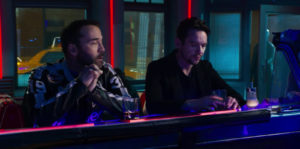 Written and directed by Alessio Della Vale, the neo-noir American Night takes place in New York City on one fateful night. Michael Rubino (Emile Hirsch) has just laid his father to rest and is the new head of the mafia. As a sign of the power he now yields, Michael is set to bring Warhol's pop-art painting of Marilyn Monroe to his place. However, the bumbling courier, Shakey (Fortunato Cerlino), loses it. Thus, the hunt is on for the priceless piece.
Meanwhile, art dealer/forger John (Jonathan Rhys Meyers) and his girlfriend, Sarah (Paz Vega), are preparing to open his very own gallery. But, Lord Samuel Morgan (Michael Madsen) is set to pull the plug unless John goes back to his old, criminal ways. However, the reappearance of John's stuntman brother, Vincent (Jeremy Piven), sends John and Sarah on a quest for the missing Warhol. Inevitably, this sends everyone on the fatal road toward destiny.
Running a hefty 2 hours and 3 minutes, including credits, American Night is long. Unfortunately, there isn't just one sequence or moment that could be excised to help maintain momentum. See, Della Vale's script restarts several times, as the audience follows one character to a particular moment, then another. Think Pulp Fiction or Go. As such, some scenes only make sense an hour or more in, which leads to the film feeling its length. Shoring up some moments, such as the initial meeting between John and Vincent, or excising the "scorpion and frog" moment, would help.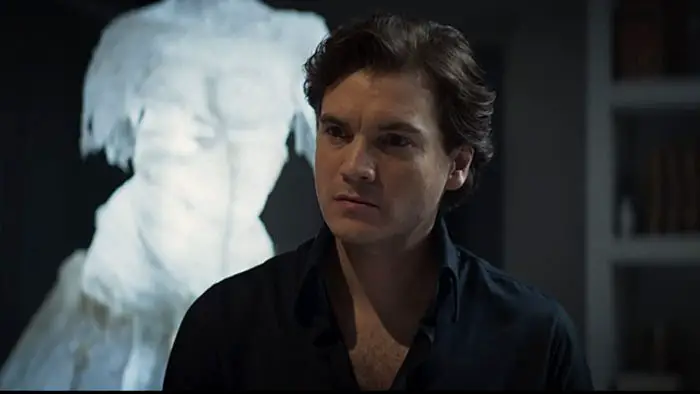 "…Warhol's pop-art painting of Marilyn Monroe…the bumbling courier, Shakey, loses it."
With that being said, the movie looks absolutely outstanding. Ben Nott and Andrzej Sekula's cinematography elevates the production to true art status. Vale and the directors of photography took inspiration from several modern-day pop art masterworks to inform the look of the picture. As a result, the colors pop off the screen, the lighting is moody and atmospheric, and every frame drips with pure, cool style. From a visual standpoint, the neo-noir is one of the best of the year.
The stellar cast keeps viewers glued to the screen even the story lags. Hirsch is shockingly powerful, intense, and brutal as Michael. When he offers Sarah a lifetime of happiness, it seems genuine, but his violent streak is bubbling just underneath the surface. The actor wisely doesn't overplay this duality until the very end. Meyers is suave and endearing as the put-upon gallery owner who gets in over his head. His voiceover during a flashback to him getting mercilessly beat up is excellent.
Vega is charming as ever, though she's not given a ton to do. Piven imbues American Night with a sense of levity that would otherwise not be present. This is paramount to the film's overall success, as without the humor, the story would be too dour and self-serious for its own good. Madsen's role is brief, but he's quite good and brings much-needed gravitas.
American Night is not shy about its cinematic influences, and it is a bit too long. But the cast is excellent, and the story is engaging, so audiences never totally tune out. Add in the sumptuous cinematography and vibrant colors, and one gets a true work of art that is about a true work of art.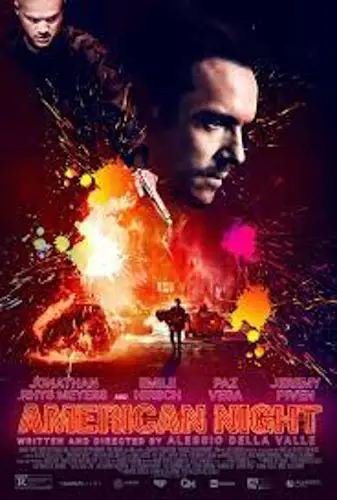 "…from a visual standpoint, the neo-noir is one of the best of the year."