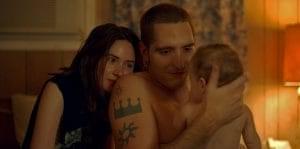 "Escalation" is a little tool storytellers employ to build drama in a tale. The opening of a story sets a normal base level, and as it moves forward the lives of our protagonists get progressively better or progressively worse. At the family dinner table, stories that move in the positive direction work amongst friends, but not-so-much in film. Heartache and tragedy always win the Oscar.
From director Collin Schiffli, All Creatures Here Below is a downhill slide for the young couple, Gensan (David Dastmalchian) and Ruby (Karen Gillan). When the pizza restaurant Gensan works at converts to "carry out" only, he is downsized setting off a steady barrage of bad luck events and bad decisions.
For Gensan and Ruby, they live a "one check away" lifestyle in the low rent area of Los Angeles. With Gensan out of work, Ruby also manages to lose her job cleaning a local church because she was caught in an area she wasn't supposed to be in. Careless mistake?
Gensan is an angry man. This anger simmers, and Gensan must make efforts to control it. Ruby, on the other hand, has been dulled by the traumatic events in her past. The film presents a slow reveal of Ruby and Gensan's abuse at a young age, and both are coping with it differently.
"…he is downsized setting off a steady barrage of bad luck and bad decisions."
After losing his job, Gensan cashes out his last paycheck and gambles all of it on a cockfight on the east side of L.A. As the match ends, the police raid the fight. In the commotion, one of the organizers grabs the cash from the day and takes off with it. Gensan follows him to his car and demands his winnings. A struggle ensues, and Gensan winds up killing the man, taking the money, and stealing his car.
Meanwhile, Ruby is left alone with only her thoughts. She begins to hear a baby's cry triggering a vision of a baby she once had. When she comes to, Ruby spots a baby crying alone in the apartment window across from her.