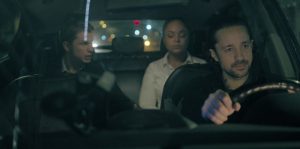 The sibling relationship between Ethan and Mia is visibly dysfunctional. Being a reckless teenager and all, Mia is recalcitrant and stubborn, embroiled in a toxic relationship with her boyfriend. Ethan is unable to convince Mia to stay in school and leave her boyfriend. But he never gives up on her, courtesy of the promise he made to his dying mother to take care of Mia, as witnessed in well-timed flashbacks. While superficially sweet and heartbreaking, their relationship is only meant to fuel the subsequent violence of Ethan's precarious quest for vengeance. Very little time is spent fleshing out Ethan and Mia's familial strains because Adverse is more or less a proudly campy thriller.
Alex Kharlamov's portentous score closely imitates B-movie decadence. Derrick Cohan's notably fluid cinematography impresses with overhead and tracking shots that zoom in abruptly and move smoothly alongside Ethan. Both the score and cinematography are deliberately showy and meta.
The film boasts an impressive supporting cast, featuring Kate Katzman as Ethan's neighbor, Penelope Ann Miller as the dead mother, and Sean Astin as Ethan's boss. They do what they can with underwritten roles. But it is Rourke and Nicholas who uphold the momentum.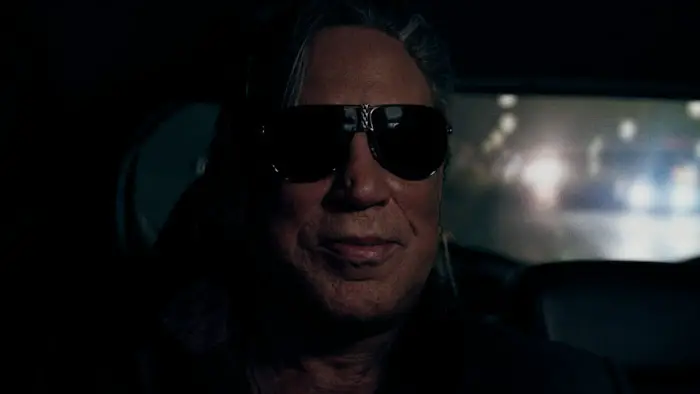 "…Rourke is the standout performance, enriching the role…with suppressed regret and ounces of vulnerability."
Mickey Rourke is the standout performance, enriching the role of the unsparing crime boss with suppressed regret and ounces of vulnerability. Despite willing to do what is necessary to brutalize unpaying clients, Kaden is on borrowed time, coughing into a napkin and walking with a cane. However, he is threatening when it matters. Rourke's physical presence ensures that the character's bonafides are never questioned, and he ably sells the weakening state of the threatening role as well.
Thomas Ian Nicholas portrays Ethan with enhanced ferocity and vigor. The character is discernably acrid enough to erupt into violence but furtive enough to impinge on Kaden's operation without him realizing the betrayal before it's too late. For the most part, the actor's avenging presence sustains the tension, despite the plot's numbing predictability and contrived drama.
While narratively familiar and stylistically brash, Brian Metcalf's Adverse should by no means be taken seriously. Even when juggling stimulating topics of grief and responsibility, Metcalf's throwback thriller is enjoyably operatic and absurd. Thanks to two strong lead performances and its knowing sensing of self, the film is enjoyable for all the right reasons.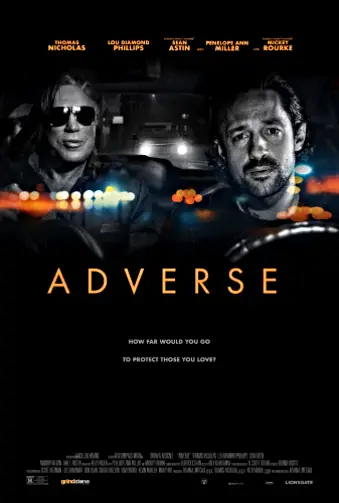 "…a proudly campy thriller."