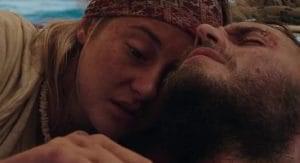 Adrift is an uneven survival drama co-produced and directed by a connoisseur in the genre, the Icelandic Baltasar Kormakur (The Deep; Everest). It was loosely based on the true events endured by a young couple caught by the category-four Hurricane Raymond while sailing from Tahiti to San Diego in 1983. Shailene Woodley (The Fault in Our Stars; Divergent) stars as Tami Oldham Ashcraft, a brave woman who, alone in the sea, manages to stay alive after massive waves have erupted from the depths of the Pacific Ocean.
Having been 27 hours unconscious due to a blow on her head, Tami wakes up just to realize that her fiancé, Richard (Sam Claflin), was gone, probably swallowed by the tempestuous sea. However, she started to believe in miracles in the minute she catches sight of him on a small rubber boat that keeps floating not so far from their ruined 44-foot yacht Hazana. Visibly disturbed, Richard has a leg shattered and some broken ribs, showing no reaction to her talking. How could this have been possible? Is Tami's fertile imagination working in her favor or a miracle actually happened? The truth is that Tami survived 41 days adrift, eating canned fruit salad and sardines.
"…a young couple caught by the category-four Hurricane Raymond…"
The inspiring reality was monotonically scripted by the Kandell twins (Moana) together with David Branson Smith (Ingrid Goes West) and wasn't convincingly adapted to the screen, drowning fast in clumsy procedures and obtuse lines. Recurring to inevitable yet disruptive flashbacks to show us how the couple had met five years before, Kormakur creates tragic/romantic momentum without ever going too deep.
Consequently, the film shapes into an exhausting melodrama instead of the harrowing, devastating adventure that everybody was expecting. A punch-less attitude from the director, who makes us suspicious about what his next step is going to be.
What saves Adrift from an instant wreckage is Woodley's performance, but still, it's preferable to read the facts than cope with its cinematic adaptation.
Adrift (2018) Directed by Baltasar Kormakur. Written by Aaron Kandell, Jordan Kandell, David Branson Smith. Starring Shailene Woodley, Sam Claflin.
5 out of 10 stars