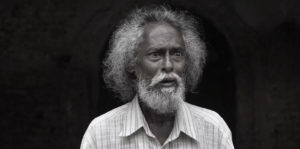 In Adieu Godard, writer/director Amartya Bhattacharyya pays tribute to cinephilia while providing nuanced examinations of everything from misogyny to the cultural expectations of cinema. It's a film dense with ideas, reflecting a filmmaker that clearly has a lot to say. The brisk runtime, though, inevitably makes it difficult to tie the disparate thematic threads together.
Adieu Godard follows Ananda (Choudhury Bikash) and his friends, who all love motion pictures. So seemingly every night, he raids the local DVD stand (almost certainly consisting of bootlegs) for the next flick to bring back home to his poor village in India. His group of cinephile friends sit crowded in front of a crappy box TV the size of a microwave while his wife sleeps in the next room. Surely this set-up isn't too out of the ordinary for the less affluent movie lovers around the world.
Oh, but I didn't mention that the films Anada looks for were porn DVDs, did I? Yes, Ananda and his friends spend most evenings watching porn while his wife cries herself to sleep. "All wives are depressed," proclaims Ananda to the village doctor when the cause of her sadness is made clear to him. One night, however, he mistakenly brings home a flick that isn't quite what he or his friends expect. It's an older French feature in black and white about a handsome thief and his beautiful American wife in Paris. It's not what they're expecting, what with its confusing jump-cuts and noticeable lack of on-screen banging.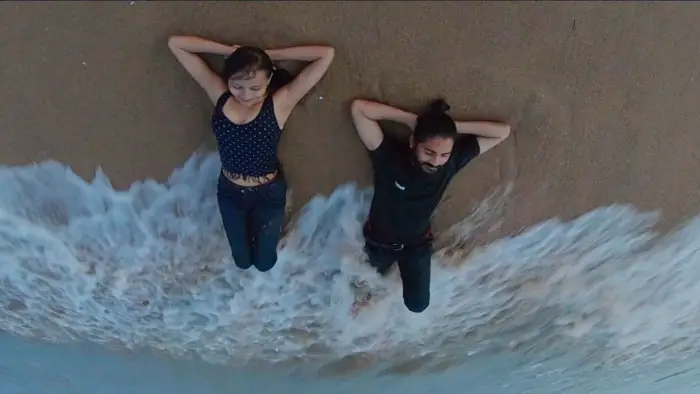 "Ananda subsequently organizes an impromptu Godard festival…"
Of course, Ananda happens to be watching Godard's Breathless, the seminal feature from 1960. His friends find it pretentious and confusing – to say nothing of the cardinal sin it commits by not including boobs. Ananda, however, finds it enthralling, unlike anything he's seen before, and he's desperate to share Godard with the rest of his local community. Ananda subsequently organizes an impromptu Godard festival, with the unsuspecting audience expecting something more akin to a Bollywood spectacle. We are then introduced to Shilpa (Sudhasri Madhusmita), a young woman subject to the most vicious form of village gossip when she is caught with Joe (Dipanwit Dashmohapatra).
Adieu Godard is a joy when the focus is on Ananda, and the discordance Godard causes within the community, but the frame narrative early in the film is a bit jarring. Bhattacharyya needs more time to unpack the ideas introduced by the inclusion of Shilpa and her storyline. Nevertheless, the focus on Ananda and his incongruent obsession with Godard is the highlight, and we never stray too far from that.
Regardless, Adieu Godard is generally a blast. Cinephiles will love it because it should, without fail, bring to mind our journeys into "challenging" cinema. Casual viewers not well-versed in the New Wave catalogue will still find plenty of enjoyment in the chaos that erupts as a result of the backlash against the movie ("Godard is injurious to health," one sign proclaims). And any film that celebrates the legacy of the old codger will only increase in relevance when the day inevitably comes that we actually have to bid the 91-year-old a fond, real-life adieu.
For more information about Adieu Godard, visit the Film Movement website.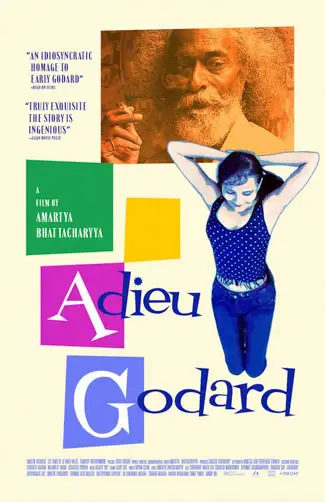 "…cinephiles will love it..."